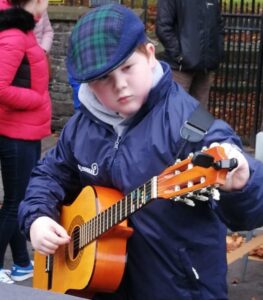 Congratulations to Riddell Fiddles' Two Towns Housing Estate Youth Musical Outreach Programme who have been nominated in Community Project of the Year sponsored by Greentrax Recordings. in the MG ALBA Scots Trad Music Awards 2021. Vote here! Vote now!
We asked Sheila Sapkota of Riddell Fiddles' Two Towns Housing Estate Youth Musical Outreach Programme the following questions.
Tell us about yourself
Riddell Fiddles is an established ,successful, all age traditional music community group based in the Scottish Borders.The group performs both locally and further afield (even got to Cape Breton) in their zealous 'Music for All' approach. The 'Two Towns Housing Estate Youth Musical Outreach programme' was borne out of this philosophy.By offering free tuition, instruments and local venues it has proved possible to allow music to flourish in areas where financial and geographical constraints might have proved to be a barrier.Two youth groups 'Bannerfield Buskers in Bannerfield Housing Estate,Selkirk and, more recently, Burnfoot Buskers on Burnfoot estate in Hawick ' have built up and flourished. Funding from organisations such as the Scottish Government (via the Scottish Community Alliance & TRACS) helped allow Covid adaptions (gazebos/screens) and the groups managed to continue – albeit with limits.
Why are you involved in Scottish music?
We live in the Scottish Borders and are lucky enough to be surrounded by beautiful scenery,nature, rivers, a vibrant history, the spoken Scots in all it's various dialects and forms and a culture of music making and amazing musicians. Scottish music is part of our way of life and adds so much to our heritage and to our understanding of who we are. These traditions are carried on through the young folk involved in our outreach programme.
Any particular career highlights?
Riddell Fiddles has had many 'highs'. Being a local, in demand community group and performing to the wider community is always a privilege.
The highlight this year, during Covid, was Bannerfield Buskers' adapting to life in lockdown and making a shadow puppet film to depict the pivotal 'Battle of Philiphaugh' which was fought between the Covenanters and Royalists, in 1645 at the very spot where the young musicians live.With own compositions and a young narrator who narrated (in Scots) Sir Walter Scott's ballad of the battle the film was premiered on Sir Walter Scott's 250th birthday in the chapel at Abbotsford House, Melrose.With funding from Creative Scotland/REMT this project allowed creativity and music and an amazing film to be made whilst dealing with such a difficult time.
Another high was seeing more young folk in Burnfoot all enrolling in classes this session as soon as covid restrictions eased. A room full of young musicians was a joy.
What are your plans for the future?
Riddell Fiddles will widen it's youth outreach and try to access all who wish to learn traditional music. As venues continue to open the groups will work up their repertoire and head out to Morrison's in Hawick to busk (always a favourite).
A mini tour of the 'Wee Toons o' the Borders' is also on the cards.
Read more about Riddell Fiddles' Two Towns Housing Estate Youth Musical Outreach Programme
Riddell Fiddles' Two Towns Housing Estate Youth Musical Outreach Programme Social Media
https://www.riddellfiddles.scot
Facebook: https://www.facebook.com/RiddellFiddles
Twitter: http://www.twitter.com/
Instagram: http://www.instagram.com/
http://www.youtube.com/:
http://www.tiktok.com/:
Unfortunately due to Covid there are no tickets for sale to the 2021 MG ALBA Scots Trad Music Awards. You will be able to watch it live in the UK at 7pm (GMT) on BBC ALBA and here. Bands performing on Saturday 4th December include Dàimh, Ìmar, Hannah Rarity, Strathspey Day Band and more to be announced.
If you would like to support Hands Up for Trad in their work with Scottish trad music and musicians please consider supporting our Patreon campaign. We have 3 tiers starting at $1 a month and everything helps support us in our work. Read more at www.patreon.com/handsupfortrad