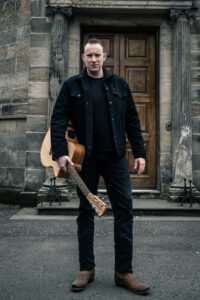 Congratulations to Norri Tago MacIver who have been nominated in Online Performance of 2021 sponsored by Gordon Duncan Memorial Trust in the MG ALBA Scots Trad Music Awards 2021. Vote here! Vote now!
We asked Norrie MacIver of Norri Tago MacIver the following questions.
Tell us about yourself
My name is Norrie MacIver and I come form Carloway in the Isle of Lewis. I am currently living in fife after spending many years in Glasgow. I am currently the lead singer of Skipinnish. When I am not gigging I teach Gaelic in schools and online and have students from all over the world learning Gaelic.
Why are you involved in Scottish music?
I have been involved with Scottish music for as ling as I can remember. From competing at the Mòd at the age of 6 to attending Fèis's and then going on to study Scottish music in Glasgow. I enjoy performing Scottish music and seeing how much audiences all over the world enjoy listening to it.
Any particular career highlights?
I have toured all over the world since I was 18 but I always say that the best gigs for me at "home" gigs. Highlights include the first time I ever performed at Heb Celt on the main stage with Bodega and then the first time I played that stage with Skipinnish was really special. Having been to see Runrig perform at the Glasgow barrowlands for years, it felt amazing to perform there with Skipinnish for the first time to a sell out crowd. Also to perform there with my musical hero, Malcolm Jones, is something I will never forget.
What are your plans for the future?
My plans are to record and release my next solo album in 2022 of original songs in both Gaelic and English and enjoy getting back on the road with Skipinnish.
Read more about Norri Tago MacIver
Norri Tago MacIver Social Media
http://www.norriemaciver.co.uk
Facebook: http://www.facebook.com/NorrieTagoMusic
Twitter: http://www.twitter.com/
Instagram: http://www.instagram.com/norrietago
http://www.youtube.com/:
http://www.tiktok.com/norrietago:
Unfortunately due to Covid there are no tickets for sale to the 2021 MG ALBA Scots Trad Music Awards. You will be able to watch it live in the UK at 7pm (GMT) on BBC ALBA and here. Bands performing on Saturday 4th December include Dàimh, Ìmar, Hannah Rarity, Strathspey Day Band and more to be announced.
If you would like to support Hands Up for Trad in their work with Scottish trad music and musicians please consider supporting our Patreon campaign. We have 3 tiers starting at $1 a month and everything helps support us in our work. Read more at www.patreon.com/handsupfortrad