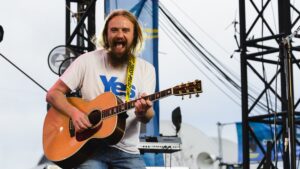 Congratulations to MICHAEL BRYAN who have been nominated in Music Tutor of the Year Award sponsored by Creative Scotland's Youth Music Initiative in the MG ALBA Scots Trad Music Awards 2021. Vote here! Vote now!
We asked MICHAEL BRYAN the following questions.
Tell us about yourself
I am extremely humbled by this nomination, and very grateful to be recognised in such highly esteemed company.
I would describe myself as a freelance accompanist and tutor, originally from Strathkanaird (just north of Ullapool) via Terre-Haute, Indiana.
I have been living in Glasgow for the last twenty years, and while specialising in traditional Scottish music I have been lucky enough to perform and educate across many genres – from numerous collaborations with Bhangra producers 'Tigerstyle', performing with 'The Edinburgh Quartet', recording with rappers to currently playing with Paisley born blues singer and writer/publisher Linda Jackson.
Growing up I was lucky to benefit tremendously from some incredible teachers – Alex Siezcarek imparted to me incredible wisdom and the Suzuki method on classical violin, and although I quit the orchestral world in my early teens to pursue my Nirvana fetish, I learned so much about musicianship and discipline from that environment.
I then embarked on a period of self tuition on the guitar (there were no guitar tutors in easy reach of Ullapool) save for two weeks of the year when I would attend the now legendary Fèis Rois, where I was lucky enough to be inspired by many wonderful tutors – particularly Terry Small, Jim Hunter, Ishbel MacAskill and Gillian Mackenzie. I also must give huge credit to Valerie Bryan, well known as Ullapool High School Music teacher; editor of 'Ceòl nam Fèis 1 &2' and lead tutor (in conjunction with Andy Thorburn) of Fèisean nan Gàidheal tutor training for 15 years.
In my early twenties I was asked to cover some classes by Jessie Newton for 'Fèis Dhun Eideann', and I quickly discovered that seeing young people enjoying learning music was extremely rewarding.
Engaging young people in traditional Scottish music and fusing it with other genres has become an almost all-encompassing passion of mine and I have worked for numerous organisations covering multiple genres of musical education in this field. I am a passionate advocate of the immeasurable and infinite benefits of learning music to the human experience.
My classical training, background in orchestral performance and choral singing as well as my practical experience gained over the last two decades has allowed me to develop skills necessary to engage with musicians from widely varying backgrounds.
It brings me a tremendous joy when I see ex-pupils of mine touring the world, winning awards and carving highly successful careers within the ever expanding world of Scottish traditional music.
Just as importantly I take immense pride when I see pupils of mine who might be struggling in mainstream education or have learning difficulties gaining in confidence and self esteem from the immeasurably rewarding experience of learning to play music.
I believe unequivocally that every child in Scotland must have access to high quality and continuous musical education and that it falls upon our wider community of educators to ensure that our elected representatives make certain that this is the case.
Why are you involved in Scottish music?
As an incomer to this rich, diverse and vibrant nation; my adopted homeland has welcomed me warmly and given me a tremendously varied and colourful human experience. As a bit of a weirdo at school, I felt truly at home for the first time in my life as a teenager attending Fèis Rois. Hearing and seeing Martyn Bennet, Shooglenifty and the Peatbog Faeries as an 'I've got a few beers and some mates with a camper van' highly excited teenager was nothing short of an epiphany! And I think I've probably covered 'Why are you involved in Scottish music?' in my excessively verbose ramblings above…
Any particular career highlights?
Teaching Groupwork to 90 pupils at 'Fèis Rois nan Deugairean' with my own childhood group work tutor Terry Small
Accompanying Martin Hayes as a duo in Turin Folk Club (Denis Cahill is my all time favourite accompanist)
Musical Director for 'Edinburgh Youth Gaitherin's Bhangra collaboration' with Raj and Pops (Tigerstyle), Mhairi Britton, Lord Munmeet Singh and Charlotte Hathaway
Headlining Cambridge Folk Festival with 'Treacherous Orchestra'
Working with The National Centre of Excellence in Traditional Music in Plockton and the four National schools of musical excellence on orchestral score and performance of 'Contours of Cairngorm' with Patsy Reid, Mhairi Hall and Fraser Stone
Winning a 'Danny Kyle' award and playing at Simon Thoumire and Clare Mclaughlin's wedding with 'Fire in the Bog' (John Somerville, Adam Sutherland and I)
Accompanying Cathie Ann Macphee at 'A Night For Gordon – A Tribute to the legacy of Gordon Duncan'
Peforming at 'The National Folk Festival' in Australia with Nuala Kennedy, Donald Hay, Alasdair Fraser and Natalie Hass
Touring 'Bridging the Gap' – Patsy Reid's 'New Voices' commission with a 15 piece band
Playing in the House band for the 'BBC Young Traditional Musician of the Year' for 11 consecutive years with Mhairi Hall and Paul Jennings
Recording the album 'Cairngorm' at 'Crear' with Mhairi Hall, Fraser Stone, Donal Lunny and Will Lamb
What are your plans for the future?
All my regular teaching jobs are still being conducted by 'Zoom', and as such I am very much looking forward to getting back face to face with all my regular pupils.
I'm always happy to take on more pupils if time allows and can be contacted through my website 'michaelbryan.biz'.
Teaching wise, I would like to do some more mixed genre large group stuff. I'm also keen to engage with refugees and asylum seekers.
Playing wise – I just want to do more! I don't have a lot going on just now in that area of my professional life and am very much open to offers.
Plans are in the pipeline to record a duo album with renowned Shetland fiddler Andrew Gifford.
Also – having been an accompanist for many fabulous musicians over the years, it's high time I did some of my own stuff. See 'michaelbryan.biz' for developments….watch this space!
Read more about MICHAEL BRYAN
MICHAEL BRYAN Social Media
https://michaelbryan.biz/
Facebook: https://www.facebook.com/michaelbryan.biz
Twitter: http://www.twitter.com/@DrChords
Instagram: http://www.instagram.com/michael_strathkanaird
https://www.youtube.com/channel/UCnazMAFAsjPSGe_KvOpRexQ
Unfortunately due to Covid there are no tickets for sale to the 2021 MG ALBA Scots Trad Music Awards. You will be able to watch it live in the UK at 7pm (GMT) on BBC ALBA and here. Bands performing on Saturday 4th December include Dàimh, Ìmar, Hannah Rarity, Strathspey Day Band and more to be announced.
If you would like to support Hands Up for Trad in their work with Scottish trad music and musicians please consider supporting our Patreon campaign. We have 3 tiers starting at $1 a month and everything helps support us in our work. Read more at www.patreon.com/handsupfortrad