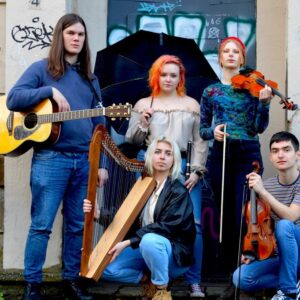 Congratulations to Madderam who have been nominated in Up and Coming Artist of the Year sponsored by Royal Conservatoire of Scotland in the MG ALBA Scots Trad Music Awards 2021. Vote here! Vote now!
We asked Johanna Kirkpatrick of Madderam the following questions.
Tell us about yourself
Madderam are a fresh, young folk band based in Central Scotland. Comprising of a mix of guitar, fiddles, whistle, clarsach and vocals, the band has built a totally unique sound while remaining true to each member's individual roots and influences. Although lockdown has paused many of the band's initial plans, they have remained active and creative throughout this past year. This includes performing for the Hands Up For Trad showcase, recording a session for the Stirling Tolbooth's online Shindig video series as well as releasing their debut album, Ebb and Flow in early March. The band have also been featured on Bruce Macgregor's Travelling Folk programme on BBC Radio Scotland as well as being heavily played on Celtic Music Radio. In the past Madderam have performed to sold out audiences at Glasgow's Old Hairdressers venue and have developed diverse and continually surprising live shows.
Recorded on the cusp of lockdown restrictions back in early 2020, Ebb and Flow perfectly showcases each member's abilities in composition, arrangement and performance. Taking its title from a song composed by whistle player and vocalist, Eilidh Macintyre, Ebb and Flow straddles a wide variety of styles – encompassing French, Gaelic and self-penned songs alongside traditional, contemporary and original tunes that complement each other beautifully to create a sound that is unmistakeably Madderam.
Why are you involved in Scottish music?
Each member of Madderam have been brought up surrounded by Scottish Music. Each member of the band has developed their own, distinctive voice within the Scottish Music scene. The Scottish Music scene is extremely varied and exciting in 2021 and Madderam are proud to be a part of this continually developing, exciting community.
Any particular career highlights?
Madderam's career highlights include releasing our debut album, Ebb and Flow in March 2021, performing a set at the prestigeous Tolbooth Stirling online Shindig series alongside many of our musical heroes, performing to a sold out audience at Glasgow's Old Hairdresser's venue and having music from Ebb and Flow played on Bruce Macgregor's Travelling Folk programme on BBC Radio Scotland.
What are your plans for the future?
Madderam's plans for the future involve performing a greater number of live gigs, including organising a small tour and performing at more festivals. We are set to play Glasgow's Old Hairdressers on the 19th of November, Stirling Folk Club on the 13th of December, and already have exciting opportunities for 2022.
The band are currently busy arranging brand new material for upcoming live gigs which we hope will surprise and invigorate our audience. We also hope to record this new material at some point in the future.
Read more about Madderam
Madderam Social Media
https://madderam.bandcamp.com/album/ebb-and-flow
Facebook: https://www.facebook.com/MadderamBand
Twitter: https://twitter.com/MadderamBand
Instagram: https://www.google.com/url?sa=t&rct=j&q=&esrc=s&source=web&cd=&cad=rja&uact=8&ved=2ahUKEwjLl7G06eXzAhU5CGMBHc2pAaIQFnoECAIQAQ&url=https%3A%2F%2Fwww.instagram.com%2Fmadderam_band%2F%3Fhl%3Den&usg=AOvVaw3TYl4TF79S6cV77X9cmVQ-
https://www.youtube.com/channel/UC9VvXqwvzoQRde2L02OCdqw:
http://www.tiktok.com/:
Unfortunately due to Covid there are no tickets for sale to the 2021 MG ALBA Scots Trad Music Awards. You will be able to watch it live in the UK at 7pm (GMT) on BBC ALBA and here. Bands performing on Saturday 4th December include Dàimh, Ìmar, Hannah Rarity, Strathspey Day Band and more to be announced.
If you would like to support Hands Up for Trad in their work with Scottish trad music and musicians please consider supporting our Patreon campaign. We have 3 tiers starting at $1 a month and everything helps support us in our work. Read more at www.patreon.com/handsupfortrad