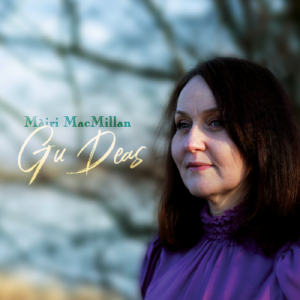 Congratulations to M who have been nominated in Gaelic Singer of the Year sponsored by The Highland Society of London, Trad Video of the Year sponsored by Threads of Sound in the MG ALBA Scots Trad Music Awards 2021. Vote now!
We asked Mairi MacMillan the following questions.
Tell us about yourself
Gaelic singer from Uist now living in Glasgow. Released my first album this year.
Why are you involved in Scottish music?
I've been singing in Gaelic for as long as I can remember. Love singing and learning new songs.
Any particular career highlights?
Releasing my first album this year and in doing so having the opportunity to work alongside amazing and talented musicians.
Winning Traditional Gold medal at the National Mod
What are your plans for the future?
I would love to continue singing and collaborating with other singers and musicians. I would like to record more songs and share them as widely as possible.
Read more about Mairi.
M Social Media
http://www.mairimacmillan.com
Facebook: http://www.facebook.com/mairimacmillan.uist
Twitter: http://www.twitter.com/mairimacmillan.uist
Instagram: http://www.instagram.com/MMacMillan_Uist
https://www.youtube.com/channel/UCU2D2K_mscDd2o6vlYGbGqA:
Unfortunately due to Covid there are no tickets for sale to the 2021 MG ALBA Scots Trad Music Awards. You will be able to watch it live in the UK at 7pm (GMT) on BBC ALBA and here. Bands performing on Saturday 4th December include Dàimh, Ìmar, Hannah Rarity, Strathspey Day Band and more to be announced.
If you would like to support Hands Up for Trad in their work with Scottish trad music and musicians please consider supporting our Patreon campaign. We have 3 tiers starting at $1 a month and everything helps support us in our work. Read more at www.patreon.com/handsupfortrad