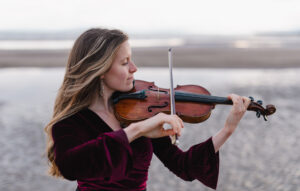 Congratulations to Isla Ratcliff who have been nominated in Music Tutor of the Year Award sponsored by Creative Scotland's Youth Music Initiative in the MG ALBA Scots Trad Music Awards 2021. Vote here! Vote now!
We asked Isla Ratcliff of Isla Ratcliff the following questions.
Tell us about yourself
I am a Scottish fiddle player, singer and composer from Edinburgh. I will soon release my debut album 'The Castalia', which features traditional and self-composed tunes inspired by my time in Cape Breton, Nova Scotia in 2019. I teach a fiddle class at the Scots Music Group, I teach in schools and I teach privately. I am a qualified Suzuki violin teacher. I love sharing the joy of music with my students and seeing them develop both musically and personally.
Why are you involved in Scottish music?
I love the community of the Scottish traditional music scene. It is welcoming and friendly. I also love the possibilities that traditional music offers for self-expression, creativity and friendship. It brings people together. I care about preserving the music, continuing the tradition and sharing it for many people to enjoy.
Any particular career highlights?
I was a Semi-Finalist in the BBC Young Traditional Musician of the Year 2022. I have performed at Celtic Connections, Cambridge Folk Festival, Sidmouth FolkWeek, the Edinburgh Festival Fringe and the BBC Proms. Aged 13, I played a trad duet with Nicola Benedetti in Edinburgh's Usher Hall.
What are your plans for the future?
I will release my debut album 'The Castalia' on Friday 19th November 2021. It is inspired by the 4 months that I spent in Cape Breton, Nova Scotia in 2019, including a trip to New Brunswick to meet my distant relatives. I hope to gig my album in the new year.
Read more about Isla Ratcliff
Isla Ratcliff Social Media
http://www.islaratcliff.com
Facebook: https://www.facebook.com/islaratcliffmusic/
Twitter: https://twitter.com/islaratcliff
Instagram: https://www.instagram.com/islaratcliffmusic/
https://www.youtube.com/channel/UCjAz-z0djY-zH5Qk1s1Dgjg:
http://www.tiktok.com/:
Unfortunately due to Covid there are no tickets for sale to the 2021 MG ALBA Scots Trad Music Awards. You will be able to watch it live in the UK at 7pm (GMT) on BBC ALBA and here. Bands performing on Saturday 4th December include Dàimh, Ìmar, Hannah Rarity, Strathspey Day Band and more to be announced.
If you would like to support Hands Up for Trad in their work with Scottish trad music and musicians please consider supporting our Patreon campaign. We have 3 tiers starting at $1 a month and everything helps support us in our work. Read more at www.patreon.com/handsupfortrad