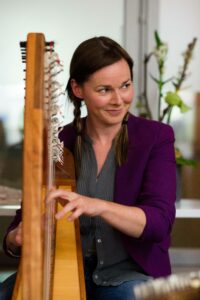 Congratulations to INGRID HENDERSON who have been nominated in Musician of the Year sponsored by The University of the Highlands and Islands in the MG ALBA Scots Trad Music Awards 2021. Vote here! Vote now!
We asked Ingrid Henderson of INGRID HENDERSON the following questions.
Tell us about yourself
Involved in many aspects of traditional music, Lochaber based harper, pianist and presenter Ingrid Henderson is a "musician of quite outstanding calibre, a virtuoso in terms of sensibility…."
Ingrid has thirty years experience performing, teaching and recording traditional music appearing with the likes of Cliar, Glenfinnan Ceilidh Band & in duos with singer Margaret Stewart and with her own fiddling hubby, Iain MacFarlane.
Musical directing is a big part of her work and she's been at the helm of BBC Alba's flag ship Hogmanay show for eight years. She has recently released her second solo album 'Message in a Bottle' which was recorded and released by her & Iain's music company, Old Laundry Productions
.
Teaching credentials include lecturing on UHI's BA Gaelic and Music course at Sabhal Mòr Ostaig, Isle of Skye, The Irish World Music Centre in Limerick and principal harp tutor at the National Centre of Excellence in Traditional Music.
Why are you involved in Scottish music?
I fell into it when I was teenager, got addicted and find it hard to get out!
Any particular career highlights?
Being the youngest ever winner of the BBC Radio 2 Young Tradition Award in 1991 – all downhill from there.
Being taken out to lunch and given a tour of Air Studios, London by George Martin (Beatles fame)
Performing with Cliar at the Royal Albert Hall.
Musical MDing and composing of music for various TV projects –
Ceilidh na Bliadhn' ùire – a 2hour live TV show full of music on Hogmanay fairly keeps you on your toes! But also
What are your plans for the future?
Plan to get out performing 'Message in a Bottle' my audio visual piece created in collaboration with NatureScot to celebrate Scotland's coast and marine life.
I'm currently planning BBC Alba's live Hogmanay Show 2021.
And more sessions and tunes with pals would be just lovely.
Read more about INGRID HENDERSON
INGRID HENDERSON Social Media
https://www.iainmacfarlaneingridhenderson.com
Facebook: https://www.facebook.com/ingridhendo
Twitter: http://www.twitter.com/ingridhendo
Instagram: http://www.instagram.com/ingridhendo
https://www.youtube.com/channel/UC5GHVYTHaCuNK4-PDJZ6yLw:
http://www.tiktok.com/:
Unfortunately due to Covid there are no tickets for sale to the 2021 MG ALBA Scots Trad Music Awards. You will be able to watch it live in the UK at 7pm (GMT) on BBC ALBA and here. Bands performing on Saturday 4th December include Dàimh, Ìmar, Hannah Rarity, Strathspey Day Band and more to be announced.
If you would like to support Hands Up for Trad in their work with Scottish trad music and musicians please consider supporting our Patreon campaign. We have 3 tiers starting at $1 a month and everything helps support us in our work. Read more at www.patreon.com/handsupfortrad