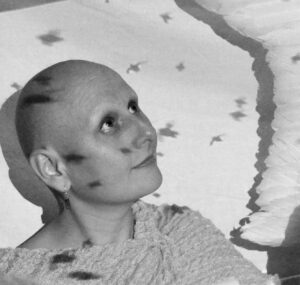 Congratulations to Inge Thomson who have been nominated in Original Work of the Year sponsored by PRS for Music in the MG ALBA Scots Trad Music Awards 2021. Vote here! Vote now!
We asked Inge Thomson of Inge Thomson the following questions.
Tell us about yourself
I grew up on Fair Isle surrounded by salt and sea and fish and birds, thus environmental elements are strongly present in my work. I have been a professional musician, composer, producer for 25 years. Much of my work over the past decade has been collaborative, affording new experiences and forming rich musical relationships. I produce albums for myself and other artists, write music for screen and radio and perform live in a variety of guises.
Why are you involved in Scottish music?
I love the Scottish music community. It is a really supportive scene across genres, I love how the various scenes overlap – so much wonderful & interesting music is generated as a result.
Any particular career highlights?
So many to choose from. Playing Carnegie Hall, New York and the NPR Tiny Desk concert with Karine Polwart. Being invited on a Cape Farewell expedition. Writing and touring the large scale co-creation- Northern Flyway (with Jenny Sturgeon).
What are your plans for the future?
I have a couple of albums to produce over the next few months. Another solo album to finish. More collaborative commissions in the spring and a seven part radio podcast to score for.
Read more about Inge Thomson
Inge Thomson Social Media
http://ingethomson.com
Facebook: http://www.facebook.com/ingethomson
Twitter: http://www.twitter.com/ingethomson
Instagram: http://www.instagram.com/
http://www.youtube.com/:
http://www.tiktok.com/:
Unfortunately due to Covid there are no tickets for sale to the 2021 MG ALBA Scots Trad Music Awards. You will be able to watch it live in the UK at 7pm (GMT) on BBC ALBA and here. Bands performing on Saturday 4th December include Dàimh, Ìmar, Hannah Rarity, Strathspey Day Band and more to be announced.
If you would like to support Hands Up for Trad in their work with Scottish trad music and musicians please consider supporting our Patreon campaign. We have 3 tiers starting at $1 a month and everything helps support us in our work. Read more at www.patreon.com/handsupfortrad