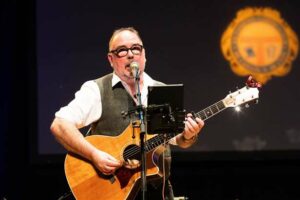 Congratulations to Iain 'Costello' MacIver who have been nominated in Gaelic Singer of the Year sponsored by The Highland Society of London in the MG ALBA Scots Trad Music Awards 2021. Vote here! Vote now!
We asked Iain MacIver of Iain 'Costello' MacIver the following questions.
Tell us about yourself
I am a singer/songwriter based on the Isle of Harris. I have released five solo albums plus two albums with the Gaelic/Country band New Tradition of which I am lead vocalist and guitarist.
My day job is as a Gaelic Music Instructor in Lewis and Harris schools, a job I have done for 25 years.
Why are you involved in Scottish music?
My first real introduction to music was when I was 10, through the songs of Hank Williams.
The first time I realised I liked Gaelic Music was on hearing the voice of Shonnie 'Beag' MacMillan and The Lochies. This was something new and fresh and it drove me to develop my own style by fusing Gaelic song with Country music. My ideal combo.
Any particular career highlights?
My first career highlight was appearing on the TV show Tormod Air Telly in the 1970s. I've been lucky enough to perform with some truly great Gaelic performers such as Calum Kennedy, Finlay MacNeil and Donald MacRae to name but three.
My other career highlights have been leading the choir from Sir E Scott School to victory at the Pan Celtic Festival on two occasions. I have also featured as a solo act on BBC Alba's Cèilidh Na Bliadhn' Ùra.
What are your plans for the future?
I hope to continue performing as a solo act as well as with my band.
I also plan to release a new album in 2022 to celebrate 50 years in the music business.
Read more about Iain 'Costello' MacIver
Iain 'Costello' MacIver Social Media
http://www.seaforth-music.com
Facebook: http://www.facebook.com/Iain-Costello-Music-105516781226582
Twitter: http://www.twitter.com/
Instagram: http://www.instagram.com/
http://www.youtube.com/:
http://www.tiktok.com/:
Unfortunately due to Covid there are no tickets for sale to the 2021 MG ALBA Scots Trad Music Awards. You will be able to watch it live in the UK at 7pm (GMT) on BBC ALBA and here. Bands performing on Saturday 4th December include Dàimh, Ìmar, Hannah Rarity, Strathspey Day Band and more to be announced.
If you would like to support Hands Up for Trad in their work with Scottish trad music and musicians please consider supporting our Patreon campaign. We have 3 tiers starting at $1 a month and everything helps support us in our work. Read more at www.patreon.com/handsupfortrad