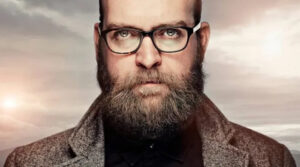 Congratulations to Findlay Napier who have been nominated in Musician of the Year sponsored by The University of the Highlands and Islands in the MG ALBA Scots Trad Music Awards 2021. Vote here! Vote now!
We asked Findlay Napier of Findlay Napier the following questions.
Tell us about yourself
One of Scotland's finest singer-songwriters, Findlay Napier has been described as Michael Marra meets Elvis Costello, a Caledonian Loudon Wainwright III or a Scottish James Taylor. His songs are full of earthy humour, hopeless love and biting satire.
In 2018 he was the first solo artist to be nominated in the "Best Live Act" category in the Scot's Trad Music Awards.
His fourth album It Is What It Is was released on 1st October 2021 via The Bothy Society and was supported by a seventeen date Eddi Reader support tour, followed by a nine date tour with Megan Henwood.
It Is What It Is follows his 2017 and 2015 albums Glasgow'and VIP (respectively). VIP: Very Interesting Persons (produced by Boo Hewerdine) was number two in the Daily Telegraph's top dozen folk albums that year and categorically commanded him musical VIP status. In 2017 he turned those same supreme songwriting gifts and truly magnificent vocals to his adoptive hometown Glasgow on VIP's hotly-anticipated follow-up.
It Is What It Is was recorded and mixed at Gran's House studio with Angus Lyon and Chris Waite. It also features a plethora of incredible people from the folk scene, including co-writes by Boo Hewerdine (The Bible / Eddi Reader), and features BBC Radio 2 Award winning singer songwriter Megan Henwood, Juno Award and Polaris Music Prize Nominee Terra Lightfoot, alongside Louis Abbott (Admiral Fallow), Euan Burton (Beth Nielson Chapman/Kris Drever), Gustaf Ljunggren, Donna Maciocia and Gillian Frame.
Covid did not slow Findlay down as 2020 also saw him working with his wife Gillian Frame, and (composer, producer, multi-instrumentalist) Mike Vass on an album called The Ledger. The Ledger is a time capsule of the 50's folk scene containing ten traditional Scottish folk songs. As well as being invited to perform The Ledger at the prestigious TED Summit in Edinburgh and at Celtic Connections, it also made three of the top 10 end of year lists on Folk Radio UK. 2019 saw his collaboration with award-winning songwriter Megan Henwood tour across the UK in support of their Story Song Scientist's EP. Their Quantum Lyrics tour and second EP are coming in November 2021.
Why are you involved in Scottish music?
I've always been involved with Scottish Music. It's the first music I heard and more importantly the first music I participated in.
Any particular career highlights?
Supporting Eddi Reader on a few of her UK tours. Getting to perform for her audience in some of the finest venues in the UK.
Being nominated for Live Act of The Year in 2018. I think I'm the first (or joint first with Karine Polwart) solo act to be nominated. It was a great honour and, because I put so much work into my live show, it felt like all that hard work was beginning to pay off.
Working on my songwriting with Boo Hewerdine was a career defining moment. It honed my songwriting and performance skills and gave me the confidence to stick at music.
Touring in Canada. It's such a big and beautiful country. I love driving between shows over there. The scenery is epic.
My favourite thing in the last year was accidentally making an album with Angus Lyon at his studio. We didn't go into the studio in order to make an album but, after two days, we came out with most of a record. We had a brilliant time, lots of laughs and we had the time to play about with the studio that we don't usually allow ourselves when making an album.
What are your plans for the future?
Touring the UK in 2022 with various festival appearances.
Building the Story Song Scientists show with Megan Henwood into a multi-media extravaganza/1980s episode of Tomorrow's World… and recording our 3rd EP "Algorhythms".
Recording and co-write the  follow up to my new album "It Is What It Is" with Angus Lyon
Glasgow Songwriting Festival 2022
Read more about Findlay Napier
Findlay Napier Social Media
http://www.findlaynapier.com
Facebook: https://www.facebook.com/findlaynapiermusic/
Twitter: https://twitter.com/findlaynapier
Instagram: https://www.instagram.com/findlaynapier/
http://www.youtube.com/:
http://www.tiktok.com/:
Unfortunately due to Covid there are no tickets for sale to the 2021 MG ALBA Scots Trad Music Awards. You will be able to watch it live in the UK at 7pm (GMT) on BBC ALBA and here. Bands performing on Saturday 4th December include Dàimh, Ìmar, Hannah Rarity, Strathspey Day Band and more to be announced.
If you would like to support Hands Up for Trad in their work with Scottish trad music and musicians please consider supporting our Patreon campaign. We have 3 tiers starting at $1 a month and everything helps support us in our work. Read more at www.patreon.com/handsupfortrad