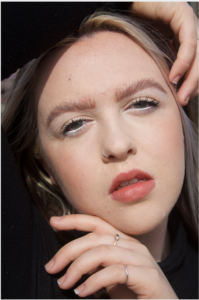 Congratulations to Ellie Beaton who have been nominated in Citty Finlayson Scots Singer of the Year sponsored by Traditional Music and Song Association in the MG ALBA Scots Trad Music Awards 2021. Vote here! Vote now!
We asked Ellie Beaton of Ellie Beaton the following questions.
Tell us about yourself
My name is Ellie Beaton and I am a nineteen year old Scots Song singer from Rothienorman, Aberdeenshire. I was brought up surrounded by traditional music and both Traditional and Bothy Ballads. I enjoy sharing my North-East heritage and love of Doric through my songs. After attending Aberdeen City Music School until 2020, I left home to pursue a career in music in Glasgow where I am now currently in my Second Year studying Classical Vocal Studies at the Royal Conservitoire of Scotland.
Why are you involved in Scottish music?
Growing up in the North-East meant that traditional music was never far away. The majority of my childhood was spent attending village hall ceilidhs and exploring various parts of Scotland. Throughout Secondary School, I attended 'The Gaitherin' in Aberdeenshire which really inspired me to continue with Traditional Music.
For me, being involved in Scottish music provides me a way to feel like I'm keeping a part of my rural heritage alive.
I enjoy that I'm able to connect my love of music with my love of Aberdeenshire, it's amazing to be able to connect the two together.
Any particular career highlights?
Performing as a finalist as the BBC Radio Scotland Young Traditional Musician of the Year 2021has been one of the highlights of my career so far. I never expected to ever get through to the Semi-Finals of the competition so being in the final was a real shock!
I also enjoyed working with Malinky on their album 'Handsel' in which I recorded a Bothy Ballad with them. They were so supportive and I definitely wouldn't be where I am right now without all of their support and guidance.
Singing at the Bothy Ballad Champion of Champions at Elgin was also a dream come true. Being able to sing alongside singers that have influenced me so much over the past years meant it was such a special moment to me.
What are your plans for the future?
My plans for the future are to continue my studies on the Vocal Studies course at the Royal Conservitoire of Scotland and to hopefully record an EP in 2022.
The dream is to be able to work professionally in both Classical and Folk genres so I hope to soon make this a reality!
Read more about Ellie Beaton
Ellie Beaton Social Media

Facebook: https://www.facebook.com/elliebeatonsong/
Twitter: http://www.twitter.com/
Instagram: https://www.instagram.com/elliebeatonsong/?hl=en-gb
https://www.youtube.com/channel/UCyiBdzqnru0WYbi2IeFTGVA:
http://www.tiktok.com/:
Unfortunately due to Covid there are no tickets for sale to the 2021 MG ALBA Scots Trad Music Awards. You will be able to watch it live in the UK at 7pm (GMT) on BBC ALBA and here. Bands performing on Saturday 4th December include Dàimh, Ìmar, Hannah Rarity, Strathspey Day Band and more to be announced.
If you would like to support Hands Up for Trad in their work with Scottish trad music and musicians please consider supporting our Patreon campaign. We have 3 tiers starting at $1 a month and everything helps support us in our work. Read more at www.patreon.com/handsupfortrad