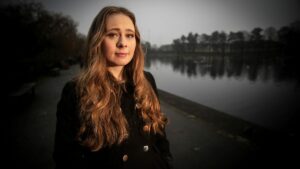 Congratulations to Ceòl is Cràdh (Mental Health in Musicians documentary) who have been nominated in Trad Music in the Media sponsored by Sabhal Mòr Ostaig An in the MG ALBA Scots Trad Music Awards 2021. Vote here! Vote now!
We asked Mischa Macpherson of Ceòl is Cràdh (Mental Health in Musicians documentary) the following questions.
Tell us about yourself
'Ceòl is Cràdh' is an hour long documentary, presented by Mischa Macpherson, that explores mental health in the music industry. It was produced by Sgeul Media and broadcast on BBC Alba in 2021.


Catch it on BBC iPlayer (until 3rd Nov): https://www.bbc.co.uk/iplayer/episode/m000r6mb/ceol-is-cradh


Synopsis: Research has shown that the majority of musicians struggle with depression or anxiety at some point in their lives. In the hour long documentary, singer Mischa Macpherson looks into some of the reasons behind this and speaks to various musicians to hear about the impact on their lives. Speaking openly and honestly, musicians such as Corrina Hewat and Ross Ainslie offer a powerful and personal insight into the issue.


Other musicians featured in the programme include: 
Greg Lawson, Chloe Bryce, Laura Wilkie, Marit Falt, Innes Watson, Su-a Lee, Signy Jackobsdottir, Anna Massie, Jenn Butterworth, Ali Levack, Alistair Paterson, Charlie Stewart, Raymond MacDonald, Dave Milligan, Andrew Waite and James Lindsay.
Why are you involved in Scottish music?
The Scottish music scene is such a powerful force for promoting positive change. 'Ceòl is Cràdh' could not have been made without the support and strength of the Scottish music community and the huge list of individuals and musicians who came forward to share their time and experiences so generously for the greater good of supporting fellow musicians and tackling the culture of stigma and silence that so often surround these issues.

By looking deeply at the issues among musicians and creating a greater understanding of some of the challenges we face in relation to mental health, we then, as a community have the opportunity to start looking out and understanding mental health issues and stigma within our wider communities and audiences. 

Any particular career highlights?

There have been many unexpected highlights in making this programme. In what is a fairly heavy topic, there was also much joy, music and laughter in its creation. One highlight has been creating the sense of community among musicians and the wider Scottish music scene to support each other, tackle and understand what can be a very big and scary issues to face alone. 

The unexpected responses after the broadcast – from both musicians and non-musicians – has also been incredibly moving.
What are your plans for the future?
To continue raising awareness & support for musicians and keeping the dialogue of mental health issues within the industry open.
Music Minds Matter is Help Musicians' dedicated mental health support line and service for the whole UK music community. Available 24 hours a day, seven days a week, and completely free.
 Phone: 0808 802 8008


British Association for Performing Arts Medicine is a specialist healthcare charity supporting individuals & organisations in the performing arts free of charge. Phone: 020 8167 4775
Read more about Ceòl is Cràdh (Mental Health in Musicians documentary)
Ceòl is Cràdh (Mental Health in Musicians documentary) Social Media

Facebook: https://fb.watch/909YkgDVDq/
Twitter: http://www.twitter.com/
Instagram: https://www.instagram.com/sgeulmedia/?hl=en
https://www.youtube.com/watch?v=5v8ppZj6lro:
http://www.tiktok.com/:
Unfortunately due to Covid there are no tickets for sale to the 2021 MG ALBA Scots Trad Music Awards. You will be able to watch it live in the UK at 7pm (GMT) on BBC ALBA and here. Bands performing on Saturday 4th December include Dàimh, Ìmar, Hannah Rarity, Strathspey Day Band and more to be announced.
If you would like to support Hands Up for Trad in their work with Scottish trad music and musicians please consider supporting our Patreon campaign. We have 3 tiers starting at $1 a month and everything helps support us in our work. Read more at www.patreon.com/handsupfortrad