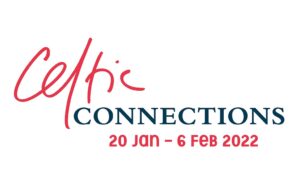 Congratulations to Celtic Connections who have been nominated in Event of the Year sponsored by VisitScotland in the MG ALBA Scots Trad Music Awards 2021. Vote here! Vote now!
We asked Celtic Connections of Celtic Connections the following questions.
Tell us about yourself
Now in its 29th year, Celtic Connections is the leading annual festival of world, folk and roots music that lightens up the Scottish winter every January. The festival welcomes over 2000 artists and musicians to the city from all over the world over 18 days with over 300 events and attracting an audience in excess of 100,000.
In 2021 the festival pivoted to online, presenting over 100 artists in a programme that was made up of unique digital content from over 30 specially commissioned projects and performances that were filmed across many of Glasgow's much-loved venues. As well as supporting the music sector in Scotland, international artists contributed to the diverse line-up by recording performances in over 10 locations, including Mali, Sudan, Nashville Sweden, Denmark, Ireland and Rajasthan.
Over 19 nights, programmes were released through the online platform. The standard format of each programme was performances from 4 -5 artists over approx. 90 mins each night. Some 'exclusive' shows were filmed where audiences could see a whole show from artists including, Admiral Fallow, Elephant Sessions and Jose Gonzalez.
Dementia Friendly concerts were filmed remotely and the festival engaged with care homes to deliver the free content online.
A series of 24 mini-concerts were filmed and presented free of charge online for children and messaging pointed to parents who were home-schooling in January. Celtic Connections created 5 school's concerts with artists performing as part of the festival and these were delivered online in weekly intervals from May until the summer break for teachers to use in class.
Why are you involved in Scottish music?
Now in its 29th year, Celtic Connections has evolved into the largest roots festival of its type in the world, presenting the very best in folk and traditional music, alongside unique collaborative projects featuring indie, jazz, world and orchestral artists.
The festival provides a platform to introduce new audiences to traditional music as well as supporting up and coming and established artists. The educational programme has been credited with the major resurgence of traditional music in Scotland over the last 20 years.
The festival promotes international artistic links and cultural exchanges, reinforced by the festival's industry event, Showcase Scotland, which invites 180 international delegates to Glasgow.
Any particular career highlights?
The confidence in programming is such that Celtic Connections has curated key sections of the cultural programme of major international events including Ryder Cup Chicago, Ryder Cup Gleneagles, London 2012 Olympics, Glasgow 2014 Commonwealth Games, European Championships 2018 and UEFA 2020.
The support from artists, audiences and the wider events sector as the festival transitioned to digital in 2021 has been a particular highlight. During this difficult period for the events industry, artists and audiences alike embraced the festival's digital programme – coming together to support each other at a time when we couldn't in a physical environment. It was heart-warming to see the support for the festival and for traditional music in Scotland.
What are your plans for the future?
We have announced the festival programme for 2022 which will return to in-person in January 2022 and we look forward to welcoming artists and audiences back to Glasgow to enjoy the festival.
Read more about Celtic Connections
Celtic Connections Social Media
http://www.celticconnections.com
Facebook: http://www.facebook.com/CelticConnections/
Twitter: http://www.twitter.com/ccfest
Instagram: http://www.instagram.com/celtic_connections
http://www.youtube.com/:
http://www.tiktok.com/:
Unfortunately due to Covid there are no tickets for sale to the 2021 MG ALBA Scots Trad Music Awards. You will be able to watch it live in the UK at 7pm (GMT) on BBC ALBA and here. Bands performing on Saturday 4th December include Dàimh, Ìmar, Hannah Rarity, Strathspey Day Band and more to be announced.
If you would like to support Hands Up for Trad in their work with Scottish trad music and musicians please consider supporting our Patreon campaign. We have 3 tiers starting at $1 a month and everything helps support us in our work. Read more at www.patreon.com/handsupfortrad