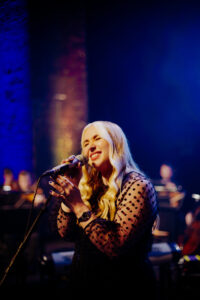 Congratulations to Ainsley Hamill who have been nominated in Gaelic Singer of the Year sponsored by The Highland Society of London in the MG ALBA Scots Trad Music Awards 2021. Vote here! Vote now!
We asked Ainsley Hamill of Ainsley Hamill the following questions.
Tell us about yourself
The Guardian Album of the Month – Not Just Ship Land "Her voice thick with velvet and mirk…hovering between the comforting warmth of The Breath and the whip-smart forlornness of early Adele…Hamill has a big intriguing voice, it's Scottishness ever-present."
"One of the best of her generation." RnR Magazine
Mix Heather Small & Julie Fowlis and you've got singer songwriter Ainsley Hamill. One of the UK's leading and most diverse singers, Ainsley has a long list of nods including the BBC Radio Scotland Young Traditional Musician of the Year Finalist and Gaelic Singer of the Year Finalist at the MG ALBA Scots Trad Music Awards. She represented Scotland at Eurovision in Gothenburg and has appeared at folk festivals the world over, including The Festival Interceltique de Lorient and Celtic Connections for the last 10 years.
2021 sees a new direction for Ainsley with the release of her debut feature album 'Not Just Ship Land'. Produced by BBC composer Malcolm Lindsay, 'Not Just Ship Land', released in March, is inspired by the surroundings and unsung heroes of Govan and Glasgow.
Hailing from the West Coast of Scotland, Ainsley specialises in song writing and songs in Scottish Gaelic and English. Her love of Gaelic song was nurtured whilst studying at the Royal Conservatoire of Scotland and Trad roots are close to her heart.
With this new album however, Ainsley is exploring new sounds and ideas as she pushes out from these roots to create personal material that encompasses big topics close to her heart, including feminism and equality, while unearthing forgotten stories and places that deserve a voice.
For many years Ainsley performed and toured with folk bands Barluath and made appearances with The Unusual Suspects . During this time, her accomplished song writing skills were evident in Barluath's two studio albums; 'Source' and 'At Dawn of Day' as well as various singles including 'Touch the Gate' and 'At the Fair'. Ainsley is a current member of folk band Fourth Moon, performing Gaelic, English and her own material, as well as step dancing.
Why are you involved in Scottish music?
The community within Scottish music is brilliant, it's a bit like a family.
Any particular career highlights?
Loved singing at Eurovision choir of the year with the Alba Choir In Gothenburg.
Not Just Ship Land album launch was a bit of a dream performing with such incredible musicians and string orchestra.
What are your plans for the future?
Releasing Fourth Moon album
Recording album with Toby Shaer
Continuing to perform Not Just Ship Land
Releasing the new edition of the Tolmie Collection with Kenna Campbell
Read more about Ainsley Hamill
Ainsley Hamill Social Media
http://www.AinsleyHamill.com
Facebook: https://www.facebook.com/ainsleyhamillsinger
Twitter: http://www.twitter.com/ainsleyhamill
Instagram: https://www.instagram.com/ainsleyhamill/
https://www.youtube.com/channel/UC5J9sa-YP3V5RVVR3CRAtNA:
http://www.tiktok.com/:
Unfortunately due to Covid there are no tickets for sale to the 2021 MG ALBA Scots Trad Music Awards. You will be able to watch it live in the UK at 7pm (GMT) on BBC ALBA and here. Bands performing on Saturday 4th December include Dàimh, Ìmar, Hannah Rarity, Strathspey Day Band and more to be announced.
If you would like to support Hands Up for Trad in their work with Scottish trad music and musicians please consider supporting our Patreon campaign. We have 3 tiers starting at $1 a month and everything helps support us in our work. Read more at www.patreon.com/handsupfortrad