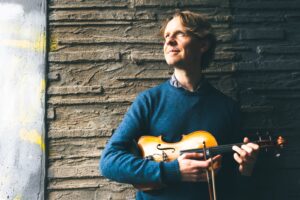 Congratulations to Adam Sutherland who have been nominated in Original Work of the Year sponsored by PRS for Music in the MG ALBA Scots Trad Music Awards 2021. Vote here! Vote now!
We asked Adam Sutherland of Adam Sutherland the following questions.
Tell us about yourself
Scottish Fiddler/Composer/Teacher
Why are you involved in Scottish music?
I'm doing this until I have to get a real job.
Any particular career highlights?
Winning Composer of the Year in the 2017 Trad Music Awards.
What are your plans for the future?
I'm preparing the ground for a career composing authentic, modern-sounding Scottish music for film and television. Currently, I'm composing several new pieces designed to demonstrate the kind of scores that directors and producers could have as part of their production. Since the start of the pandemic, I've been composing extensively with Logic Pro X, using a combination of Spitfire Audio orchestral libraries, synthesisers, my own fiddle playing and other musicians to play my parts. I'm aiming for the biggest, most emotional music I can possibly conceive of, in order to help a director tell their story.
Read more about Adam Sutherland
Adam Sutherland Social Media
https://adamsutherland.co.uk
Facebook: http://www.facebook.com/adamfiddle
Twitter: http://www.twitter.com/adamfiddle
Instagram: http://www.instagram.com/adamfiddle
https://www.youtube.com/channel/UCdEyCbkEbni1lZ_c4D3m_wQ?view_as=subscriber:
http://www.tiktok.com/:
Unfortunately due to Covid there are no tickets for sale to the 2021 MG ALBA Scots Trad Music Awards. You will be able to watch it live in the UK at 7pm (GMT) on BBC ALBA and here. Bands performing on Saturday 4th December include Dàimh, Ìmar, Hannah Rarity, Strathspey Day Band and more to be announced.
If you would like to support Hands Up for Trad in their work with Scottish trad music and musicians please consider supporting our Patreon campaign. We have 3 tiers starting at $1 a month and everything helps support us in our work. Read more at www.patreon.com/handsupfortrad