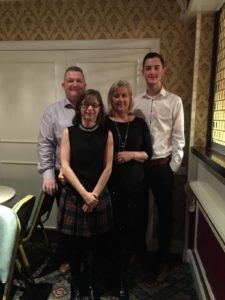 Congratulations to The Cruickshank Family Band who have been nominated in Dance band of the Year sponsored by National Association of Accordion and Fiddle Clubs in the MG ALBA Scots Trad Music Awards 2019. Vote here! Vote now!
We asked Jennifer Cruickshank of The Cruickshank Family Band the following questions.
Tell us about yourself
The Cruickshank Family band simply evolved within a house steeped in traditional music. The band line up being Mum Jennifer on Accordion, dad Brian Fiddle, Son Callum on Piano and Daughter Iona playing Fiddle. They are often augmented by musical friends as and when the occasion demands.
The band started with practices in the house and then simply getting together for informal tunes. Today the full band love to go out and entertain as a family, socially as well as musically.
Much of the feedback they get from gigs, are comments on how nice it is to see a full family play together on stage. And that is something they all value.
Music is such a big part of all the Cruickshank Family lives. Their house is always full of music and it's a passion they all share together.
Why are you involved in Scottish music?
The entire Cruickshank Family have great involvement in the traditional Music Scene.
Jennifer leads the band on accordion, she has been played the accordion since her teens and broadcast regularly with her own Scottish Dance Band. She has worked with the BBC since she was 18, first with audio before moving into production. Today she produces both BBC Radio Scotland's flagship traditional music programmes Take The Floor and Travelling Folk. Her passion is working with musicians in session and getting the very best from them. Away from work, Jennifer teaches the accordion and also loves to gig with the family band.
Brian a leading bass player and fiddler is much in demand with many of our leading dance bands including Tom Orr, Craig Paton, the 60s Bairns and The Graeme Mitchell Scottish Dance Band, which he has played with for over 35 years. He has taken Scottish music around the world, from India to Canada, Trinidad and just this year to Uganda. Back in June, Brian was honoured with a lifetime achievement award from The Keith TSMA Festival, for his support and enthusiasm to his favourite weekend of the year.
Callum is a very talented young musician, playing both the accordion and piano. Just in October, he was a finalist in this year's Senior Scottish Accordion Championships for the fourth time. Callum also is the Chairman of Banchory Accordion and Fiddle Club, plays piano with Aberdeen Strathspey and Reel Society, as well as giving accordion tuition at SCAT (Scottish Culture and Traditions) . Callum's own Scottish Dance Band were recent guests at this year's Shetland Accordion and Fiddle Festival.
Iona is the youngest member of the family. She started playing the fiddle at 12, with her tuition coming from Heather Anderson. She attends and competes at the major festivals throughout Scotland and has enjoyed great success with her musical friends, in Deeside Loons and Quines Fiddle Group. At School she is a most valuable member of the String Group and of The Aboyne Schools Ceilidh Band. Music is simply Iona's life.
Collectively and individually the Cruickshank Family support, foster and encourage all genres of traditional music through their involvement and participation in tutoring, performing and attending music festivals such as Perth, NAAFC Festival, Shetland, Skye and Banchory to name a few.
Any particular career highlights?
Being nominated in the Scottish Dance Band of the year category at this year's Trad Awards is an accolade the band are delighted to accept especially this year with the Trads returning to the North East.
Over the years The Cruickshank Family have enjoyed entertaining audiences up and down the country. Accordion and Fiddle Clubs guest spots have taken them to Dingwall, Glenfarg, Skye and Lanark. This year the family were one of the headliners at this years Keith TMSA Festival and also at the Annual Stanley Music Weekend.
Musical highlights also include playing at Strathdon for Bill Connolly and performing on BBC Alba in front of an invited audience to celebrate the contribution made by the one and only Mr Robbie Shepherd MBE. That evening was a very special moment for the entire family given their longstanding association with the Doric Mannie.
What are your plans for the future?
As a family, our plans for the future are simply to continue enjoy playing and promoting traditional music. To encourage all ages to learn, develop and foster their skills. To keep music alive with attending and playing at festivals, dances and concerts. And to support and promote all our wonderful traditional musicians, be it Scottish Dance Bands, Pipe Bands, Folk Bands, Singer in Gaelic and Scots. We have wealth of talent to celebrate.
And who knows, 2020 might even be the year we go into the studio and record with The Cruickshank Family Band and friends !!!!
Read more about The Cruickshank Family Band
Facebook: http://www.facebook.com/
Twitter: http://www.twitter.com/
Instagram: http://www.instagram.com/
If you wish to attend the final ceremony, tickets are are priced £25 (+ Booking Fee), and Concessions are available. To book please call Aberdeen Music Hall Box Office on 01224 641122, or visit: https://www.aberdeenperformingarts.com/whats-on/all-shows/the-mg-alba-scots-trad-music-awards/2734. Bands performing on Saturday 7th December include Skerryvore, Session A9, Benedict Morris (BBC Radio Scotland Young Traditional Musician Award Winner 2019), Heisk, Aberdeenshire Youth Band, Sian, Robyn Stapleton, Mairi Campbell and the Pendulum Band, Susan MacFadyen Scottish Dance Band and more to be announced. There will also be a late night ceilidh after the Awards till 1am.
If you would like to support Hands Up for Trad in their work with Scottish trad music and musicians please consider supporting our Patreon campaign. We have 3 tiers starting at $1 a month and everything helps support us in our work. Read more at www.patreon.com/handsupfortrad