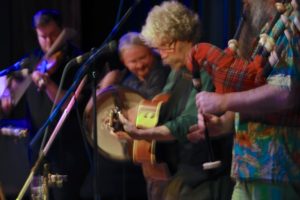 Congratulations to Tannahill Weavers who have been nominated in Folk band of the Year sponsored by Threads of Sound in the MG ALBA Scots Trad Music Awards 2019. Vote here! Vote now!
We asked Phil Smillie of Tannahill Weavers the following questions.
Tell us about yourself
International Ambassadors for Scottish Folk Music for more than 50 years 🙂
Why are you involved in Scottish music?
For the money! No honestly, for the fun, travel, and meeting so many people, but mostly for the love of the music.
Any particular career highlights?
Most recently our 50th anniversary tours
What are your plans for the future?
We were hoping for another 50 years! But we'll settle for touring Hawai'i, Japan and Australia in 2021, and possibly starting up our new department of European Carnet Organisation.
Read more about Tannahill Weavers
http://tannahillweavers.com
Facebook: http://www.facebook.com/tannahillweavers
Twitter: http://www.twitter.com/tannahillweaver
Instagram: http://www.instagram.com/tannahillweavers
If you wish to attend the final ceremony, tickets are are priced £25 (+ Booking Fee), and Concessions are available. To book please call Aberdeen Music Hall Box Office on 01224 641122, or visit: https://www.aberdeenperformingarts.com/whats-on/all-shows/the-mg-alba-scots-trad-music-awards/2734. Bands performing on Saturday 7th December include Skerryvore, Session A9, Benedict Morris (BBC Radio Scotland Young Traditional Musician Award Winner 2019), Heisk, Aberdeenshire Youth Band, Sian, Robyn Stapleton, Mairi Campbell and the Pendulum Band, Susan MacFadyen Scottish Dance Band and more to be announced. There will also be a late night ceilidh after the Awards till 1am.
If you would like to support Hands Up for Trad in their work with Scottish trad music and musicians please consider supporting our Patreon campaign. We have 3 tiers starting at $1 a month and everything helps support us in our work. Read more at www.patreon.com/handsupfortrad