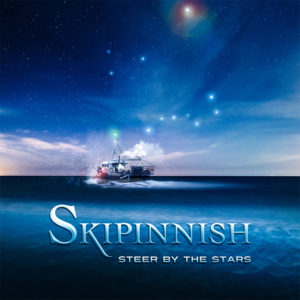 Congratulations to Skipinnish who have been nominated in Album of the Year sponsored by Birnam CD in the MG ALBA Scots Trad Music Awards 2019. Vote here! Vote now!
We asked Andrew Stevenson of Skipinnish the following questions.
Tell us about yourself
We're feeling very old this year as we've been celebrating our 20TH Anniversary Year with three birthday concerts. We started as a ceilidh band and over the years have slowly evolved into what ever it is we are now! Our material is mainly made up of our own songs with a number of bagpipe led tunes sets scattered between.
Why are you involved in Scottish music?
It is just part of who we are. We have never had any particular preconceived plan of how the timeline of the band would run. We just do what feels right at any given time and change accordingly if it doesn't. If we ever stopped enjoying it, we would do something else!
Any particular career highlights?
This year has been without doubt the most enjoyable time since we started the band. We have always been really lucky with the guys who have been with us in Skipinnish over the years and those in the band at the moment are a particularly good bunch to be making music and having adventures with. The three 20TH Anniversary gigs – The Usher Hall Edinburgh, Bught Park Inverness and the Glasgow Royal Concert Hall – were all the type and size of gig that we could never dreamed about doing just a few years ago so to do 3 within a few months was unbelievable. All were sold-out and the audiences gave us such a strong sense of celebration. Another sold-out Barrowland gig within 7 weeks of the Concert Hall and our new album Steer by the Stars hitting number 4 in the Mainstream download charts are also career highlights that have hit us this year. We are also delighted that Steer by the Stars is in the final number for Album of the Year at the Trad Awards.
What are your plans for the future?
We will just keep plodding on doing what we're doing. The Trad Music scene is stronger now than it has ever been in our lifetimes and for many generations before, and we are very lucky to be part of it. We have some bigger shows to be announced for next year and we'll just take our next steps from there!
It really feels like we're riding a wave just now and as the audiences continue to grow the wave still seems to be getting bigger. This wave might last a year and it might last another 20 years, but while we're on it, we will enjoy it and we are extremely grateful to all those who have put us here.
We are delighted to be part of the Trad Awards 2019 and for the first time in a few years we don't have a gig that night so we are looking forward to having a great night with everyone up in Aberdeen!
Read more about Skipinnish
http://www.skipinnish.com
Facebook: http://www.facebook.com/skipinnish
Twitter: http://www.twitter.com/skipinnish
Instagram: http://www.instagram.com/skipinnish_
If you wish to attend the final ceremony, tickets are are priced £25 (+ Booking Fee), and Concessions are available. To book please call Aberdeen Music Hall Box Office on 01224 641122, or visit: https://www.aberdeenperformingarts.com/whats-on/all-shows/the-mg-alba-scots-trad-music-awards/2734. Bands performing on Saturday 7th December include Skerryvore, Session A9, Benedict Morris (BBC Radio Scotland Young Traditional Musician Award Winner 2019), Heisk, Aberdeenshire Youth Band, Sian, Robyn Stapleton, Mairi Campbell and the Pendulum Band, Susan MacFadyen Scottish Dance Band and more to be announced. There will also be a late night ceilidh after the Awards till 1am.
If you would like to support Hands Up for Trad in their work with Scottish trad music and musicians please consider supporting our Patreon campaign. We have 3 tiers starting at $1 a month and everything helps support us in our work. Read more at www.patreon.com/handsupfortrad