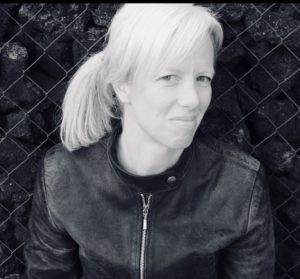 Congratulations to Signy Jakobsdottir who has been nominated in Musician of the Year sponsored by The University of the Highlands and Islands in the MG ALBA Scots Trad Music Awards 2019. Vote now!
We asked Signy Jakobsdottir the following questions.
Tell us about yourself
I play drums and percussion and have been a gigging musician for over thirty years. I have worked with lots of different artists, bands and projects, playing live and recording.
I love creating unusual atmosphere, texture and rhythm with percussion. My set up includes lots of unique bells, sounds and lots of different types of drums. I am Icelandic and grew up in Scotland.
Why are you involved in Scottish music?
Very early on in my career I had the opportunity to play some sessions with Capercaillie. Since then I have loved Scottish traditional music and have been invited to play in lots of different traditional music settings. I love listening to all of the unique voices and stunning instrumentalists that are part of the incredible music scene in Scotland. I love the connection to history, place, nature and stories through Scottish music. I especially think that gaelic song is incredibly beautiful.
Any particular career highlights?
It's so hard to pick out a favourite, I love all of my gigs! It's so often the small lo-fi gigs that are so special, and hard to explain why. Touring "The Seer" by Lauren MacColl this year around small halls in Scotland was awesome. Also touring Germany with The Shee was unforgettable.
My highlights have to include all of the times I've got to play with Capercaillie, I love their music!
Getting to work with artists such as Karine Polwart, James Grant, Justin Currie, Yola and Sharleen Spiteri has been amazing.
Last year I was asked to play on a special concert in Perth commemorating the end on the first world war, called No Man's Land. I found the concert incredibly moving and felt very proud to be involved.
In 2014 I was in the band for a beautiful installation called "The Tin Forest" in the old south Rotunda in Glasgow. It was produced by The National Theatre of Scotland and we played songs which celebrate the spirit and history of Glasgow.
I've been lucky to tour in South East Asia and South America. Playing at the Penang Jazz Festival in Malaysia was amazing. I also spent six months assisting on a score for dancers in Caracas, Venezuela which was an incredible cultural experience I always carry with me and remember often.
What are your plans for the future?
I'm looking forward to more live playing, especially touring next year with The Shee, some cool Christmas concerts with Robyn Stapleton, and a very exciting Celtic Connections gig featuring the music of Ivor Cutler. I'll be continuing to develop my rhythm teaching and dance accompaniment work at the Royal Conservatoire of Scotland and Scottish Ballet. I'm also excited about working on some of my own music which I'm looking forward to record.
Read more about Signy Jakobsdottir
Facebook: http://www.facebook.com/signyj1
Twitter: http://www.twitter.com/
Instagram: http://www.instagram.com/signyjakobsdottir/
If you wish to attend the final ceremony, tickets are are priced £25 (+ Booking Fee), and Concessions are available. To book please call Aberdeen Music Hall Box Office on 01224 641122, or visit: https://www.aberdeenperformingarts.com/whats-on/all-shows/the-mg-alba-scots-trad-music-awards/2734. Bands performing on Saturday 7th December include Skerryvore, Session A9, Benedict Morris (BBC Radio Scotland Young Traditional Musician Award Winner 2019), Heisk, Aberdeenshire Youth Band, Sian, Robyn Stapleton, Mairi Campbell and the Pendulum Band, Susan MacFadyen Scottish Dance Band and more to be announced. There will also be a late night ceilidh after the Awards till 1am.
If you would like to support Hands Up for Trad in their work with Scottish trad music and musicians please consider supporting our Patreon campaign. We have 3 tiers starting at $1 a month and everything helps support us in our work. Read more at www.patreon.com/handsupfortrad