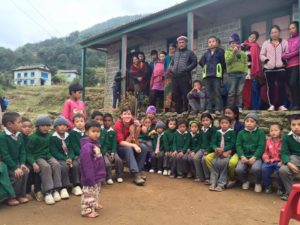 Congratulations to Sharon Hassan who has been nominated in Music Tutor of the Year sponsored by Creative Scotland Youth Music Initiative in the MG ALBA Scots Trad Music Awards 2019. Vote now!
We asked Sharon Hassan the following questions.
Tell us about yourself
I play and teach the fiddle, working with around 90 young people a week amongst other things. I like adventures and have a bit of an addiction for running in wild places, sometimes taking my fiddle with me! I like using music to help people when I can too and have seen first hand the effect it can have, most significantly in the work I have done in SEN schools and with the elderly over the years. I truly believe that anyone can play music, sometimes we just have to look for different ways to communicate, and work with the technologies we have these days.
Why are you involved in Scottish music?
It's the best obviously…! Seriously, I love the people, I love the sense of belonging I get from being involved in the traditional music community, I love that no matter where I go in the world that I can find people I can relate to through the music. Finding out about other people and cultures through music and sharing my music with others is one of the best feelings. I try to pass this onto the young people I teach and give them as many opportunities as I can. Traditional music is about so much more than learning to play the notes (although playing the right notes has it's place too!!).
Any particular career highlights?
Seeing the young people I work with moving on and becoming great humans, and hearing how music has helped them in whatever path they have chosen. Also, getting the opportunity to travel for a year with my tent, back pack and my fiddle to live in remote communities and be immersed in the Nepali, Maori and Appalachian traditions of the places I visited was humbling and an unbelievable honour and something I will never forget.
What are your plans for the future?
To write the book and get the recordings sorted out for 'Diaries of a Curious Fiddler' and continue teaching the 90 or so great young folks I am currently working with in Aberdeenshire. Developing more opportunities for them to play and learn from myself, each other and all the fantastic players that we have up here in the North East. It's a great place to be!
Read more about Sharon Hassan
Facebook: http://www.facebook.com/
Twitter: http://www.twitter.com/
Instagram: http://www.instagram.com/
If you wish to attend the final ceremony, tickets are are priced £25 (+ Booking Fee), and Concessions are available. To book please call Aberdeen Music Hall Box Office on 01224 641122, or visit: https://www.aberdeenperformingarts.com/whats-on/all-shows/the-mg-alba-scots-trad-music-awards/2734. Bands performing on Saturday 7th December include Skerryvore, Session A9, Benedict Morris (BBC Radio Scotland Young Traditional Musician Award Winner 2019), Heisk, Aberdeenshire Youth Band, Sian, Robyn Stapleton, Mairi Campbell and the Pendulum Band, Susan MacFadyen Scottish Dance Band and more to be announced. There will also be a late night ceilidh after the Awards till 1am.
If you would like to support Hands Up for Trad in their work with Scottish trad music and musicians please consider supporting our Patreon campaign. We have 3 tiers starting at $1 a month and everything helps support us in our work. Read more at www.patreon.com/handsupfortrad