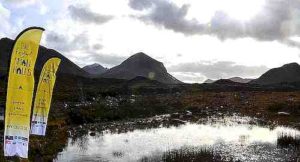 Congratulations to SEALL Festival of Small Halls 2018 who have been nominated in Community Project of the Year in the MG ALBA Scots Trad Music Awards 2019. Vote now!
We asked Sara Bain of SEALL Festival of Small Halls 2018 the following questions.
Tell us about yourself
SEALL (Skye Events for All) is a community-focused rural touring arts promoter on the Isle of Skye delivering a diverse and eclectic programme of events to rural communities via a year-round touring programme, the Skye Festival in July and the SEALL Festival of Small Halls in November each year. We are recognised by the Scottish Government as being one of the best rural performing arts promoters in Scotland.
Up until last year, SEALL events were mainly concentrated in venues in the south of Skye. We developed the SEALL Festival of Small Halls to redress the imbalance of access to our events around the Island and to bring back the importance of the rural community hall as a place to gather and celebrate our strong music culture in the traditional way. We chose a winter festival to provide communities and visitors with a new cultural experience which included social activity and a sense of winter well-being during what is often a bleak time of year.
Why are you involved in Scottish music?
SEALL is involved in Scottish music because, as a responsible promoter, we have an obligation to protect the rich music traditions of the nation and that commitment begins at home and in the heart of our communities.
To this end, we promote the relevance and importance of Scotland's musical heritage to present and future generations and aim to lead the way in promoting inclusivity, social cohesion and tolerance in the nation's culture and helping to break down barriers. Our audiences and participants are multi-generational, multi-cultured, abled and disabled, of all genders and from all walks of life. All congregate for an evening under the roof of a local community hall to experience the very best in traditional music in a memorable, family-friendly, highly social gathering.
SEALL has a long tradition of supporting and developing the Island's young musical talent in a safe and nurturing environment. Over the eras, Skye has built up a strong reputation for producing some of the world's best traditional musicians and it is our aim to continue this tradition by supporting the genre's rising stars by offering them performance and mentoring opportunities at concerts and workshops with their heroes in schools and public spaces.
Any particular career highlights?
A major highlight of SEALL's work is our success in keeping the music traditions alive through our young people. Through school workshops, ticket discounts and using young musicians to host sessions and provide opening sets, we are delighted to be helping our young people to appreciate the benefits of social celebration in the traditional way, learn from master musicians, gain experience of public performance and recognise the importance to their lives of belonging to a vibrant, exceptional and inspirational culture of global relevance and importance.
The SEALL Festival of Small Halls has also been a true highlight in SEALL's development. Taking big music to small halls across Skye, Raasay and Lochalsh we have made new connections and partnerships with communities and local businesses. Last year's festival was a true celebration of the halls, their communities and their locality and exceeded all expectations. We were bowled over by the enthusiasm and pride with which each community embraced this new project and we are excited about future festivals.
Other past highlights were SEALL's MG Alba award for Venue of the Year in 2015 and SEALL's Founder Duncan MacInnes' induction into the Hall of Fame in 2018.
What are your plans for the future?
People, Place and Performance has become our motto and the success of our first festival, together with the positive resonance the festival has made within its remote rural communities and with winter visitors, is testament to the fact there is a need, as well as a willingness, to rekindle the relevance of the village hall in today's rural communities and help them to continue to thrive long into the future.
The Small Halls festival, with its concerts, sessions, workshops and Island-wide celebratory cèilidh on St Andrew's night, is an opportunity to entertain, excite and inspire communities, visitors and artists in a unique Highland setting. It is also a chance to widen the boost the local economy in a low tourism season.
We intend the Small Halls Festival to be a high-profile fixed event attracting a unique appeal of Scotland as a destination, with the added advantage of strong international links with the global Small Halls network and Fair Saturday movement in the future.
Read more about SEALL Festival of Small Halls 2018
https://www.smallhallsfestival.co.uk
Facebook: http://www.facebook.com/seallsmallhalls
Twitter: http://www.twitter.com/sealleventsskye
Instagram: http://www.instagram.com/seallsmallhalls
If you wish to attend the final ceremony, tickets are are priced £25 (+ Booking Fee), and Concessions are available. To book please call Aberdeen Music Hall Box Office on 01224 641122, or visit: https://www.aberdeenperformingarts.com/whats-on/all-shows/the-mg-alba-scots-trad-music-awards/2734. Bands performing on Saturday 7th December include Skerryvore, Session A9, Benedict Morris (BBC Radio Scotland Young Traditional Musician Award Winner 2019), Heisk, Aberdeenshire Youth Band, Sian, Robyn Stapleton, Mairi Campbell and the Pendulum Band, Susan MacFadyen Scottish Dance Band and more to be announced. There will also be a late night ceilidh after the Awards till 1am.
If you would like to support Hands Up for Trad in their work with Scottish trad music and musicians please consider supporting our Patreon campaign. We have 3 tiers starting at $1 a month and everything helps support us in our work. Read more at www.patreon.com/handsupfortrad