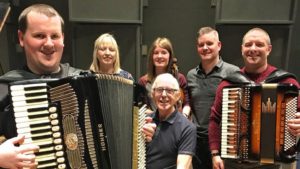 Congratulations to Scott Band Scottish Dance Band who have been nominated in Dance band of the Year sponsored by National Association of Accordion and Fiddle Clubs in the MG ALBA Scots Trad Music Awards 2019. Vote now!
We asked Scott Band of Scott Band Scottish Dance Band the following questions.
Tell us about yourself
The band was formed in 2012 to audition for BBC Radio Scotland's Take the Floor programme, the audition was successful and our first broadcast went out in November 2013. We have since done a further 3 broadcasts with the band and Scott has recently just broadcast as a one off with a different personnel a tribute to the late Alex McArthur & His Band.
Why are you involved in Scottish music?
Scott received a great collection of LP records from his late grandfather when he passed away and that's really where it all began! Love the sound of the older bands and what they were doing back in the 60's & 70's, Particular favourites are, Angus Fitchet, Lindsay Ross, Alex McArthur, John Ellis, Jimmy Blue to name but a few.
Any particular career highlights?
Career highlights would have to be getting asked to record 2 albums for Scottish Country Dancing. The first for the RSCDS in 2016 for Book 50 and the second for Bill Little from Castle Douglas who has devised over 30 dances and his ambition was to have all his dances recorded which has been successfully done by three bands, The bands being,
Scott Band SDB, James Coutts SDB and Ian Muir SDB. Another highlight would have to be being invited to play in Calgary in November 2018 for their St Andrews night ball, definitely a night to remember.
What are your plans for the future?
Plans for the future are to definitely try and record another CD of the band the last being released in 2017 and also try and keep the Scottish Music Scene alive by aiming to get more of the younger generation involved.
Read more about Scott Band Scottish Dance Band
https://www.scottband.co.uk/
Facebook:
Twitter: http://www.twitter.com/
Instagram: http://www.instagram.com/
If you wish to attend the final ceremony, tickets are are priced £25 (+ Booking Fee), and Concessions are available. To book please call Aberdeen Music Hall Box Office on 01224 641122, or visit: https://www.aberdeenperformingarts.com/whats-on/all-shows/the-mg-alba-scots-trad-music-awards/2734. Bands performing on Saturday 7th December include Skerryvore, Session A9, Benedict Morris (BBC Radio Scotland Young Traditional Musician Award Winner 2019), Heisk, Aberdeenshire Youth Band, Sian, Robyn Stapleton, Mairi Campbell and the Pendulum Band, Susan MacFadyen Scottish Dance Band and more to be announced. There will also be a late night ceilidh after the Awards till 1am.
If you would like to support Hands Up for Trad in their work with Scottish trad music and musicians please consider supporting our Patreon campaign. We have 3 tiers starting at $1 a month and everything helps support us in our work. Read more at www.patreon.com/handsupfortrad