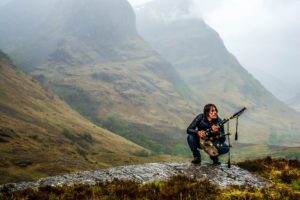 Congratulations to Ross Ainslie who have been nominated in Belhaven Bursary for Innovation, Trad Video of the Year in the MG ALBA Scots Trad Music Awards 2019. Vote here! Vote now!
We asked Ross Ainslie of Ross Ainslie the following questions.
Tell us about yourself
Ross Ainslie is one of Scotland's finest traditional musicians and composers, playing pipes, whistles and cittern. He is renowned for his highly acclaimed solo material, and as a skilled performer and prolific collaborator who performs regularly with bands Treacherous Orchestra – of which he is a founding member – Salsa Celtica, Dougie Maclean, Ali Hutton, Jarlath Henderson, Charlie Mckerron, India Alba and has performed with Kate Rusby, Blue Rose Code, Zakir Hussain, Trilok Gurtu, Capercaillie, Shooglenifty, Carl Barat, Papon, Karsh Kale, Flook, Breabach, Soumik Datta, Tim Edey, Patsy Reid and Hamish Napier.
Prestigious industry recognition has come in the form of a multitude of awards,
Won Best Duo at the BBC Radio 2 Folk Awards with Ali Hutton in 2017 and Nominated for the same award in 2018.
Nomination for Musician of the Year at the BBC Radio 2 Folk Awards in 2013, 2016 and 2018.
Nomination for Best Duo at the BBC Radio 2 Folk Awards with Jarlath Henderson in 2014.
He's also received various awards at the Scots Trad Music Awards,
Nomination for Instrumentalist of the year in 2010.
Nomination for Live Act of the year with Jarlath Henderson in 2008 and with Treacherous Orchestra in 2009 and 2010.
Nomination for Album of the year in 2013.
Treacherous Orchestra won Album of the year in 2015
Ross was also Composer of the year in 2015.
Sanctuary was in the Shortlist for Album of the year in 2018.
His debut album 'Wide Open' was voted 9th out of 50 Top Scottish Albums of 2013 in the Sunday Herald.
Why are you involved in Scottish music?
Scottish music was the first music to give me a real buzz!
Any particular career highlights?
BBC Radio 2 festival in a day in Hyde Park with Treacherous Orchestra.
Playing with Zakir Hussain at the London Olympics.
What are your plans for the future?
Releasing my 4th album Vana next year!
Read more about Ross Ainslie
http://rossainslie.bandcamp.com/
Facebook: https://m.facebook.com/RossAinslieMusic/
Twitter: http://www.twitter.com/rossainsliemus
Instagram: http://www.instagram.com/rossainsliepipes
If you wish to attend the final ceremony, tickets are are priced £25 (+ Booking Fee), and Concessions are available. To book please call Aberdeen Music Hall Box Office on 01224 641122, or visit: https://www.aberdeenperformingarts.com/whats-on/all-shows/the-mg-alba-scots-trad-music-awards/2734. Bands performing on Saturday 7th December include Skerryvore, Session A9, Benedict Morris (BBC Radio Scotland Young Traditional Musician Award Winner 2019), Heisk, Aberdeenshire Youth Band, Sian, Robyn Stapleton, Mairi Campbell and the Pendulum Band, Susan MacFadyen Scottish Dance Band and more to be announced. There will also be a late night ceilidh after the Awards till 1am.
If you would like to support Hands Up for Trad in their work with Scottish trad music and musicians please consider supporting our Patreon campaign. We have 3 tiers starting at $1 a month and everything helps support us in our work. Read more at www.patreon.com/handsupfortrad