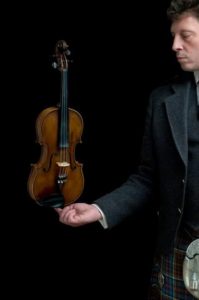 Congratulations to Paul Anderson who has been nominated in Musician of the Year sponsored by The University of the Highlands and Islands in the MG ALBA Scots Trad Music Awards 2019. Vote now!
We asked Paul Anderson the following questions.
Tell us about yourself
A traditional Scottish fiddler, teacher and composer from Tarland in Aberdeenshire.
Why are you involved in Scottish music?
I love the music, it's an extension of myself and I feel it's important to pass on the tradition I've been fortunate to be part of.
Any particular career highlights?
Glenfiddich fiddle champion 1995.
Composer and musical director of the Aberdeen Performing Arts touring production of Sunset Song.
3 pupils becoming Glenfiddich Champions.
The composition and performance of my Hielan Symphony.
5 star review on the Scotsman for my album "Beauties of the North, 2019.
What are your plans for the future?
Will keep performing, teaching and composing. Planning to begin work on my second orchestral work in 2020.
Read more about Paul Anderson
http://www.paulandersonscottishfiddler.com
Facebook: http://www.facebook.com/
Twitter: http://www.twitter.com/
Instagram: http://www.instagram.com/
If you wish to attend the final ceremony, tickets are are priced £25 (+ Booking Fee), and Concessions are available. To book please call Aberdeen Music Hall Box Office on 01224 641122, or visit: https://www.aberdeenperformingarts.com/whats-on/all-shows/the-mg-alba-scots-trad-music-awards/2734. Bands performing on Saturday 7th December include Skerryvore, Session A9, Benedict Morris (BBC Radio Scotland Young Traditional Musician Award Winner 2019), Heisk, Aberdeenshire Youth Band, Sian, Robyn Stapleton, Mairi Campbell and the Pendulum Band, Susan MacFadyen Scottish Dance Band and more to be announced. There will also be a late night ceilidh after the Awards till 1am.
If you would like to support Hands Up for Trad in their work with Scottish trad music and musicians please consider supporting our Patreon campaign. We have 3 tiers starting at $1 a month and everything helps support us in our work. Read more at www.patreon.com/handsupfortrad