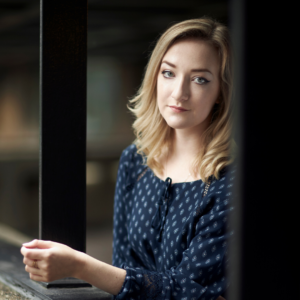 Congratulations to Iona Fyfe Trio who have been nominated in Folk band of the Year sponsored by Threads of Sound in the MG ALBA Scots Trad Music Awards 2019. Vote here! Vote now!
We asked Iona Fyfe of Iona Fyfe Trio the following questions.
Tell us about yourself
Iona Fyfe, has become one of Scotland's finest young folk singers, rooted deeply in the singing traditions of the North East of Scotland. The youngest ever winner of Scots Singer of the Year at the MG ALBA Scots Trad Music Awards 2018, she has been described as "one of the best Scotland has to offer." (Global-Music.de) With a number of high profile appearances under her belt, Iona, a mere 21 years of age, has toured throughout the UK, Poland, France, Germany, Austria, Italy, Switzerland, Czech Republic, Canada and Australia with her trio, featuring Charlie Grey on fiddle and Aidan Moodie (Gnoss) on guitar.
Released in 2019, Dark Turn of Mind is Iona's first EP entirely in English, featuring six ballads and songs found in both Appalachia and Aberdeenshire. It has been described as "a new interpretation to the country genre" – Maverick. Iona studied at the Royal Conservatoire of Scotland and graduated with a first class honours degree in Traditional Music.
Why are you involved in Scottish music?
To be honest… folk music is all I've ever known! My first time performing was at Keith TMSA festival in 2003, entering the Doric poetry! Since then, I've been nurtured by the most supportive and lovely singers, storytellers and musicians. I fell in love with the big ballads at a very early age and continue to attend ballad competitions across Scotland. In my teens I gradually went to more and more folk clubs in Aberdeenshire and beyond. I auditioned for a place studying Traditional Music at the Royal Conservatoire of Scotland when I was 16, and luckily got in – so that was that!
I sit as one of six National Directors of the Traditional Music and Song Association of Scotland. She sits on the board of the Traditional Music Forum and sits on The Musicians Union Scotland and NI Regional Committee.
Any particular career highlights?
In 2019, I was honoured to be given the opportunity to perform with the BBC Scottish Symphony Orchestra as part of the World Premiere of Disney Pixar's Brave in Concert at Glasgow Royal Concert Hall.
A real highlight was performing at Interceltique Festival De Lorient where she was described as "a Scottish folksinger, magical and charismatic" (Rolling Stone, France).
What are your plans for the future?
I recently graduated from the Royal Conservatoire of Scotland in July and since then, I've been touring the trio, featuring Charlie Grey and Aidan Moodie. In January 2020, the Iona Fyfe Trio will head to New Orleans to showcase as an Official Showcase Artist at Folk Alliance International. We have shows in Denmark, Spain the UK lined up also.
www.ionafyfe.com
Photo by Benjamin Ealovega.
Read more about Iona Fyfe Trio
http://www.ionafyfe.com
Facebook: http://www.facebook.com/ionafyfe
Twitter: http://www.twitter.com/ionafyfe
Instagram: http://www.instagram.com/iona.fyfe
If you wish to attend the final ceremony, tickets are are priced £25 (+ Booking Fee), and Concessions are available. To book please call Aberdeen Music Hall Box Office on 01224 641122, or visit: https://www.aberdeenperformingarts.com/whats-on/all-shows/the-mg-alba-scots-trad-music-awards/2734. Bands performing on Saturday 7th December include Skerryvore, Session A9, Benedict Morris (BBC Radio Scotland Young Traditional Musician Award Winner 2019), Heisk, Aberdeenshire Youth Band, Sian, Robyn Stapleton, Mairi Campbell and the Pendulum Band, Susan MacFadyen Scottish Dance Band and more to be announced. There will also be a late night ceilidh after the Awards till 1am.
If you would like to support Hands Up for Trad in their work with Scottish trad music and musicians please consider supporting our Patreon campaign. We have 3 tiers starting at $1 a month and everything helps support us in our work. Read more at www.patreon.com/handsupfortrad