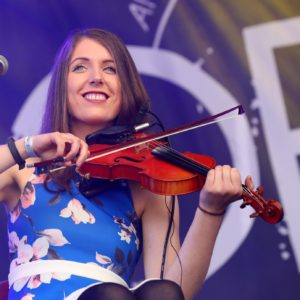 Congratulations to Hayley Keenan who have been nominated in Composer of the Year sponsored by PRS for Music in the MG ALBA Scots Trad Music Awards 2019. Vote here! Vote now!
We asked Hayley Keenan of Hayley Keenan the following questions.
Tell us about yourself
Hayley began playing the piano at the age of eight and the fiddle at the age of eleven after being influenced by her grandfather's love of playing Scottish music.
In 2008, Hayley was awarded a place at the Junior Academy of Music at the Royal Conservatoire of Scotland (Previously RSAMD) in Glasgow, which she attended for three years, before moving to Plockton to complete her sixth year at The National Centre of Excellence in Traditional Music under the tuition of Andy Thorburn and Iain MacFarlane. In 2012 she started as a full time student at the Royal Conservatoire of Scotland, managing to graduate with a First Class Honours degree.
"Splendidly Expressive" The Herald
In 2014 Hayley co-founded Talisk which went onto great success. In 2015 they won a BBC Radio 2 Folk Award. This then went on to their album being nominated Album of the Year at the 2016 MG Alba Trad Awards. In 2017 they went back to the Folk Awards with a nomination for the Horizon Awards and and then went onto being crowned "Folk Band Of The Year" at the MG Alba Scot Trad Music Awards. In 2018, the band were awarded the Belhaven Bursary for Innovation, which recognises Scottish folk and traditional artists innovating and distinguishing themselves in their field.
Appearances at world-leading festivals – including the Cambridge Folk Festival, Denmark's Tønder, WOMAD UK and Las Palmas, the Philadelphia Folk Festival, Celtic Colours, Milwaukee Irish Festival and five successive outings at Glasgow's Celtic Connections – have amassed a die-hard following, whilst the world's folk and world music media have also lauded high credits upon the trio.
The release of their hotly anticipated second album, Beyond, in October 2018 was met with a five-star 'Top of the World' review in Songlines, praising the band as "incredibly infectious and endearing… fresh, invigorating, accomplished and playfully frisky."
Touring full time with Talisk, Hayley still finds time to runs a very successful folk club she founded in 2017 in Largs called, 'Largs Folk Nights'.
Why are you involved in Scottish music?
I love listening, creating and performing Scottish Music. It is amazing to get the opportunity to perform and share the music I love, all over the world!
Any particular career highlights?
A career highlight of mine would be playing Stage 1 at Cambridge Folk Festival with Talisk, earlier this year. It was a total dream gig and I still get a buzz thinking about it. The festival is so well run and the atmosphere is always amazing!
What are your plans for the future?
I plan to still be touring with Talisk, releasing new music and exploring more of my own creative projects. I set up a folk club called 'Largs Folk Nights' two years ago, and am in the process of developing this into something bigger, which I'm really excited about!
Read more about Hayley Keenan
https://www.facebook.com/hayleykeenanmusic/
Facebook: https://www.facebook.com/hayleykeenanmusic/
Twitter:
Instagram: http://www.instagram.com/hayleykeenan27/
If you wish to attend the final ceremony, tickets are are priced £25 (+ Booking Fee), and Concessions are available. To book please call Aberdeen Music Hall Box Office on 01224 641122, or visit: https://www.aberdeenperformingarts.com/whats-on/all-shows/the-mg-alba-scots-trad-music-awards/2734. Bands performing on Saturday 7th December include Skerryvore, Session A9, Benedict Morris (BBC Radio Scotland Young Traditional Musician Award Winner 2019), Heisk, Aberdeenshire Youth Band, Sian, Robyn Stapleton, Mairi Campbell and the Pendulum Band, Susan MacFadyen Scottish Dance Band and more to be announced. There will also be a late night ceilidh after the Awards till 1am.
If you would like to support Hands Up for Trad in their work with Scottish trad music and musicians please consider supporting our Patreon campaign. We have 3 tiers starting at $1 a month and everything helps support us in our work. Read more at www.patreon.com/handsupfortrad