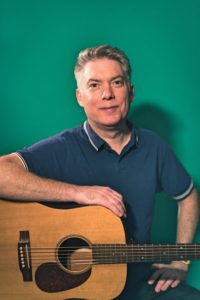 Congratulations to Brian Ó hEadhra who have been nominated in Gaelic singer of the Year sponsored by The Highland Society of London in the MG ALBA Scots Trad Music Awards 2019. Vote here! Vote now!
We asked Brian Ó hEadhra of Brian Ó hEadhra the following questions.
Tell us about yourself
Based in Inverness, I have been performing traditional and contemporary Scottish and Irish Gaelic song for over thirty years at home and abroad. I perform and record with bands Cruinn, McKerron Brechin Ó hEadhra and also with the acclaimed duo Brian Ó hEadhra | Fiona Mackenzie. I write songs mostly in Scottish Gaelic and over the past few years have been working with Fiona Mackenzie and Mike Vass on recording projects TÌR – Highland Life & Lore (2018) and on TUATH – Songs of the Northlands (2020) which are released on Naxos World Records.
Why are you involved in Scottish music?
My band Anam moved to Scotland in 1997 as we had such a positive reaction to our music which was a mix of Irish and Scottish music. I learned Scottish Gaelic at Sabhal Mòr Ostaig Gaelic college and whilst there I was taught Gaelic song by the amazing singer, Christine Primrose. Christine and I then recorded an album together, An Turas, and I also started writing Gaelic songs which I continue to do this day. I love the variety of Scottish Gaelic song as well as the rich traditions and folklore which have been passed down to us over the generations. It is an honour for me as originally an Irish Gael to be accepted into the Scottish Gaelic musical and linguistic community and to be nominated for this prestigious award. Ceud mìle taing."
Any particular career highlights?
I have been fortunate to have worked with some amazing singers, musicians and organisations over the years. Here are some career highlights:
– The album TÌR – Highland Life & Lore by Brian Ó hEadhra | Fiona Mackenzie to be nominated for Album of the Year at the International Folk Music Awards 2018.
– Touring the world with my band Anam in the nineties. Countries include Japan, USA, Canada, Australia, New Zealand, Taiwan and all over Europe.
– Having my two children, Órla (14) and Róise (12) singing at concerts with me and Fiona in recent months.
– Founding and managing the Celtic and Scots languages song competition Nòs Ùr in Inverness about a decade ago. Finalists went through to the European final minority languages final.
What are your plans for the future?
The album TUATH – Songs of the Northlands by Brian Ó hEadhra | Fiona Mackenzie will be released on the prestigious Naxos World label in early 2020.
McKerron Brechin Ó hEadhra will release a new album of tunes and songs in 2020. The trio will also tour in Scotland.
Fiona and I will tour in Scotland, Canada and mainland Europe over the coming year.
I am excited about plans to develop projects with musicians, singers and artists from around the North Atlantic fringe.
Finally, I will continue to research, write and promote our beautiful Gaelic music, song and culture at home and abroad.
Read more about Brian Ó hEadhra
http://oheadhra-mackenzie.com
Facebook: http://www.facebook.com/oheadhramackenzie
Twitter: http://www.twitter.com/BrianO_FionaM
Instagram: http://www.instagram.com/brianoheadhrafionamackenzie
If you wish to attend the final ceremony, tickets are are priced £25 (+ Booking Fee), and Concessions are available. To book please call Aberdeen Music Hall Box Office on 01224 641122, or visit: https://www.aberdeenperformingarts.com/whats-on/all-shows/the-mg-alba-scots-trad-music-awards/2734. Bands performing on Saturday 7th December include Skerryvore, Session A9, Benedict Morris (BBC Radio Scotland Young Traditional Musician Award Winner 2019), Heisk, Aberdeenshire Youth Band, Sian, Robyn Stapleton, Mairi Campbell and the Pendulum Band, Susan MacFadyen Scottish Dance Band and more to be announced. There will also be a late night ceilidh after the Awards till 1am.
If you would like to support Hands Up for Trad in their work with Scottish trad music and musicians please consider supporting our Patreon campaign. We have 3 tiers starting at $1 a month and everything helps support us in our work. Read more at www.patreon.com/handsupfortrad