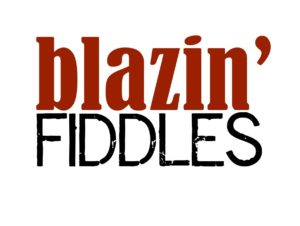 Congratulations to Blazin' Fiddles who have been nominated in Folk band of the Year sponsored by Threads of Sound in the MG ALBA Scots Trad Music Awards 2019. Vote here! Vote now!
We asked Rua Macmillan of Blazin' Fiddles the following questions.
Tell us about yourself
Take a group of the hottest contemporary fiddle players from the Highlands and Islands of Scotland, mix with some wonderfully sympathetic piano and guitar arrangements and you've got the award winning Blazin' Fiddles on your hands. And they are Blazin', in the past decade no other band has quite captured Scottish fiddle music's variety, energy and sensitivity like Blazin' Fiddles have. Like rare single malts, each member of Blazin' Fiddles draws the distinct flavour of music from their part of the Highlands and Islands. Blending solo and ensemble sets, aged with the occasional insightful tale, they all come together in a fiery blend to excite your senses. From remote village halls to the BBC Proms at the Royal Albert Hall, fiddlers Jenna Reid, Bruce MacGregor, Rua Macmillan and Kristan Harvey are joined by Anna Massie on guitar/fiddle and Angus Lyon on piano to deliver a musically intoxicating evening for all.
Why are you involved in Scottish music?
To showcase the diverse fiddle styles of the Highlands and Islands of Scotland. Each member of the band has been immersed in Scottish traditional music since childhood, studying with some of the most notable tradition bearers, and are delighted to be able to share our music and culture with audiences the world over.
Any particular career highlights?
Throughout our 21 years, we have played everywhere from remote village halls in the Highlands, to London's Royal Albert Hall, and festival appearances including Lorient, Ortigueira, Celtic Colours and Colours of Ostrava. We have also recently had fun collaborating with Karen Matheson and Emily Smith!
What are your plans for the future?
We will continue spreading the good word of Highland Fiddle music to audiences far and wide, and also building on our Tuition projects, have just launched our third collection of tunes.
Read more about Blazin' Fiddles
http://www.blazinfiddles.com
Facebook: http://www.facebook.com/blazinfiddles
Twitter: http://www.twitter.com/blazinfiddles
Instagram: http://www.instagram.com/blazin_fiddles
If you wish to attend the final ceremony, tickets are are priced £25 (+ Booking Fee), and Concessions are available. To book please call Aberdeen Music Hall Box Office on 01224 641122, or visit: https://www.aberdeenperformingarts.com/whats-on/all-shows/the-mg-alba-scots-trad-music-awards/2734. Bands performing on Saturday 7th December include Skerryvore, Session A9, Benedict Morris (BBC Radio Scotland Young Traditional Musician Award Winner 2019), Heisk, Aberdeenshire Youth Band, Sian, Robyn Stapleton, Mairi Campbell and the Pendulum Band, Susan MacFadyen Scottish Dance Band and more to be announced. There will also be a late night ceilidh after the Awards till 1am.
If you would like to support Hands Up for Trad in their work with Scottish trad music and musicians please consider supporting our Patreon campaign. We have 3 tiers starting at $1 a month and everything helps support us in our work. Read more at www.patreon.com/handsupfortrad