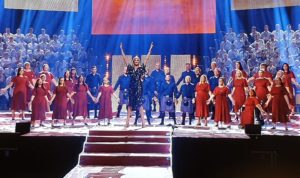 Congratulations to Alba Choir at Eurovision who have been nominated in Event of the Year sponsored by VisitScotland in the MG ALBA Scots Trad Music Awards 2019. Vote here! Vote now!
We asked Joy Dunlop of Alba Choir at Eurovision the following questions.
Tell us about yourself
The Alba Choir was launched in 2019, to be the debut entry for Scotland at the Eurovision Choir Song Contest in Gothenburg, Sweden. This competition was broadcast live in ten European countries and saw Gaelic choral music taken to uncharted levels; combining new, exciting arrangements with contemporary choreography.
Conducted by Gaelic singer and TV presenter Joy Dunlop, the 33 strong choir hailed from all parts of Scotland and are all experienced singers in existing Gaelic Choirs. We contain a mixture of fluent speakers and Gaelic learners, with the shared understanding that Gaelic is at the heart of everything that we do. The choir perform a mixture of both traditional and modern Gaelic songs, accompanied by sympathetic choreographed movement; pushing the boundaries of our cultural heritage, whilst remaining true to its roots.
Why are you involved in Scottish music?
'How can we get a million people to hear a Gaelic song live?' – that was the initial question that started the journey that culminated in Alba Choir performing on the Eurovision stage. The Alba Choir was initially created to represent Scotland at the Eurovision Choir competition in Gothenburg but it proved to be such a positive experience, that we decided to not only keep performing together but also, actively explore other options to further promote our Gaelic language and culture on an international stage.
All choristers are active members of the wider Gaelic community; singing in existing Gaelic choirs and many also work full time with traditional music and with Gaelic arts. We have a genuine respect for the music that we perform and understand how lucky we are to be blessed with such a rich cultural heritage.
Most importantly though, we just love singing together and being part of a truly special choir family. Thig crìoch air an t-saoghal ach mairidh gaol 's ceòl / The world may end but love and music with endure.
Any particular career highlights?
It's hard to describe what it felt like to see Scotland represented on a Eurovision stage and know that our Gaelic language and music would be heard by millions across the world; maybe for the first time. Performing Scotland's first ever Eurovision entry was a dream come true for the choir but to be able to do so in our Gaelic language, made the whole experience that bit more special.
This was no normal Gaelic choral competition, as it allowed us to perform a brand new Gaelic mash up created by arranger extraordinaire Sileas Sinclair – containing piobaireachd 'Cumha na Cloinne', waulking Song 'A Mhairead nan Cuiread' and one of the most iconic modern Gaelic rock songs 'Alba' by Runrig. Additionally, it provided the opportunity to include specialised choreography, to tell the stories of the songs – creating a visual spectacular on the Eurovision stage.
Despite not winning the grand prize, we returned home feeling so proud of our performance and were hugely touched by the outpouring of positive feedback that we received post competition.
What are your plans for the future?
The Eurovision Choir competition was the start of the choir's journey. Since then, we have performed at the opening ceremony of Mòd Ghlaschu 2019 and will feature of BBC Alba's Hogmanay television programme this New Year. We are also exploring further international options to promote our Gaelic language and culture on an international stage and are currently investigating future choral opportunities. Cumaibh cluas ri claisneachd!
Read more about Alba Choir at Eurovision
https://www.facebook.com/AlbaChoir/
Facebook: http://www.facebook.com/AlbaChoir
Twitter: http://www.twitter.com/
Instagram: http://www.instagram.com/
If you wish to attend the final ceremony, tickets are are priced £25 (+ Booking Fee), and Concessions are available. To book please call Aberdeen Music Hall Box Office on 01224 641122, or visit: https://www.aberdeenperformingarts.com/whats-on/all-shows/the-mg-alba-scots-trad-music-awards/2734. Bands performing on Saturday 7th December include Skerryvore, Session A9, Benedict Morris (BBC Radio Scotland Young Traditional Musician Award Winner 2019), Heisk, Aberdeenshire Youth Band, Sian, Robyn Stapleton, Mairi Campbell and the Pendulum Band, Susan MacFadyen Scottish Dance Band and more to be announced. There will also be a late night ceilidh after the Awards till 1am.
If you would like to support Hands Up for Trad in their work with Scottish trad music and musicians please consider supporting our Patreon campaign. We have 3 tiers starting at $1 a month and everything helps support us in our work. Read more at www.patreon.com/handsupfortrad