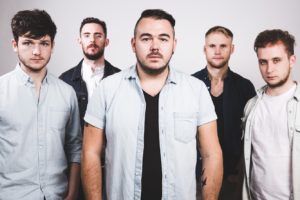 Congratulations to The Paul McKenna Band who have been nominated in Folk band of the Year sponsored by Threads of Sound in the MG ALBA Scots Trad Music Awards 2018. Vote now!
We asked Paul McKenna of The Paul McKenna Band the following questions.
Tell us about yourself
"The best folk band to have come out of Scotland in the last twenty years" New York Times
"The best band of their generation" (The Living Tradition)
"A band with the potential to dominate the Scottish/Irish traditional scene for the next twenty years" (Fatea Magazine)
Glasgow's Paul McKenna sees the world as verses and choruses. For over a decade he has travelled the world as a musician; collecting the stories of everyday and exceptional lives. From there, comes the songs written and sung by a common man with an exceptional voice. His vibrato is immediately recognizable and when he begins to weave a tale, an audience is stilled.
When asked what he wants from the music industry it's simply "nothing…I just want to sing songs". Be it social injustice, inequality or an homage to the wonder and joy of simple things, he sings for us all. His bandmates (Ewan Baird, Conor Markey, Robbie Greig, Conal McDonagh) weave exceptional melodies with traditional instrumentation and their sound has carried them to no less than six major Canadian Folk Festivals from Vancouver to Nova Scotia in 2017.
Also alumni at some of the worlds finest festivals (Woodford Folk Festival, Tonder Folk Festival, Cambridge Folk Fest), they have toured Germany, England, Belgium, Australia, USA, Austria, Switzerland, Italy and Denmark extensively for over a decade. Named Scots Singer of the Year in 2012 at The Scots Trad Music Awards, Paul's accolades continue to elevate him, the band and 4 albums blocked with well crafted tales people we know and people we wish we could be.
Why are you involved in Scottish music?
The main reason we are all involved in Scottish music is a pure love of music. We feel extremely privileged to be part of such a close musical community and rich culture.
Whether performing live or teaching & leading workshops all over the world we strive to be good ambassadors for Scottish Music.
We have worked hard to establish a career in Scottish Music and have toured the world since the bands formation in 2006.
We couldn't do anything else!
Any particular career highlights?
2009 Up and Coming Band of The Year – Scots Trad Music Awards
2012 Scots Singer of The Year – Scots Trad Music Awards
2013 Grammy Award shortlist for our album 'Elements'.
2017 Performance with Foy Vance at Canmore Folk Festival, Canada
Performances at major festivals all over the world including Celtic Connections, Cambridge Folk Festival, Edmonton Folk Festival, Tonder Folk Festival and Woodford Folk Festival.
What are your plans for the future?
We will release our 5th studio album in 2019. To coincide with the release we will be touring the UK, Germany, Canada and the USA.
Paul will also be part of the world renowned Transatlantic Sessions in 2019. This will include two shows at Celtic Connections and a tour of the UK.
Plans are already in place for a return to Australia in the near future.
Read more about The Paul McKenna Band
http://www.paulmckennaband.com
Facebook: http://www.facebook.com/thepaulmckennaband
Twitter: http://www.twitter.com/paulmckennaband
If you wish to attend the final ceremony, tickets are available to buy via: https://www.horsecross.co.uk/whats-on/the-mg-alba-scots-trad-music-awards-35002 For box office call 01738 621031 or email box@horsecross.co.uk. Bands performing on Saturday 1st December include includes Croft No Five, Mànran, Karine Polwart Trio, Hannah Rarity, Eabhal, Catriona Watt, Gordon Duncan Experience and Gerda Stevenson. and more to be announced. There will also be a late night ceilidh after the Awards till 1am.
If you would like to support Hands Up for Trad in their work with Scottish trad music and musicians please consider supporting our Patreon campaign. We have 3 tiers starting at $1 a month and everything helps support us in our work. Read more at www.patreon.com/handsupfortrad