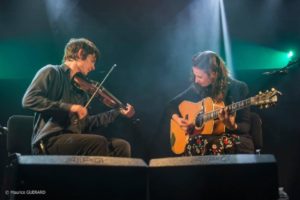 Congratulations to Ryan Young and Jenn Butterworth who have been nominated in Folk band of the Year sponsored by Threads of Sound in the MG ALBA Scots Trad Music Awards 2018. Vote now!
We asked Ryan Young of Ryan Young and Jenn Butterworth the following questions.
Tell us about yourself
Ryan Young and Jenn Butterworth can often been seen playing together as a fiddle and guitar duo. They first played together when Ryan was in his final year of the MMus at the RCS. Jenn coordinates a 'recital festival' of all the end of year recitals. After hearing that Ryan was having to play unaccaompanied she offered to play with him. They have been playing extensively throughout the UK and Europe since.
Why are you involved in Scottish music?
We've both loved traditional music since we were very young and I don't think either of us could imagine doing anything else!
Any particular career highlights?
We have many highlights individually, but together we played infront of some huge audiences this summer. Two in particular that stand out were Sidmouth and Traversees de Tatihou. We get lost in the music and it's a huge buzz when you remember at the end of a set that there's about 900 people watching you.
What are your plans for the future?
We're looking to play more and more and thinking about a possible live album too
Read more about Ryan Young and Jenn Butterworth
http://www.ryanyoungfiddle.com
Facebook: http://www.facebook.com/ryanyoungmusic
Twitter: http://www.twitter.com/RyanYoungFiddle
If you wish to attend the final ceremony, tickets are available to buy via: https://www.horsecross.co.uk/whats-on/the-mg-alba-scots-trad-music-awards-35002 For box office call 01738 621031 or email box@horsecross.co.uk. Bands performing on Saturday 1st December include includes Croft No Five, Mànran, Karine Polwart Trio, Hannah Rarity, Eabhal, Catriona Watt, Gordon Duncan Experience and Gerda Stevenson. and more to be announced. There will also be a late night ceilidh after the Awards till 1am.
If you would like to support Hands Up for Trad in their work with Scottish trad music and musicians please consider supporting our Patreon campaign. We have 3 tiers starting at $1 a month and everything helps support us in our work. Read more at www.patreon.com/handsupfortrad