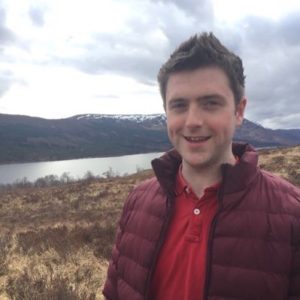 Congratulations to Ruairidh Cormack who have been nominated in Gaelic singer of the Year sponsored by Macmeanmna in the MG ALBA Scots Trad Music Awards 2018. Vote now!
We asked Ruairidh Cormack of Ruairidh Cormack the following questions.
Tell us about yourself
My name is Ruairidh Cormack and I'm 24 years old. I'm from Portree in the Isle of Skye. I started singing in Gaelic at the age of 8 years old and competed at many Mòd's from an early age. I'm currently a Cbeebies presenter at BBC Alba based in Glasgow. I've always had a huge passion for Gaelic song and culture and a particular interest in collecting songs from my own area. In 2014, I won the Traditional Gold Medal at the Royal National Mòd agus the An Comunn Gàidhealach Gold Medal this year in Dunoon. These two successes will remain with me all my life and I'm very proud of these two achievements.
Why are you involved in Scottish music?
Scottish Music is a thriving scene and the culture and craic attached with it is fantastic. I've always really enjoyed listening to Gaelic music and Traditional Music bands and it's always been a dream to perform Gaelic songs to audiences up and down the country. You always feel a great buzz when performing to a variety of audiences. At the moment, there are some amazing bands on the scene and I feel very strongly about continuing to preserve the Scottish Cèilidh scene with both Gaelic song and Scottish Dance music. Some of my favourite bands include Breabach, Trail West and Rura.
Any particular career highlights?
In 2014, I won the Traditional Gold Medal at the Royal National Mòd. It was a huge achievement for me personally and I felt I put in a huge amount of effort to try and win that award. Also, winning the Mòd Gold Medal in Dunoon was a huge personal accolade and it feels a little strange but rewarding that I now have a double Gold Medal for singing at the Royal National Mòd. I'm very excited at this moment in time in terms of career highlights.
What are your plans for the future?
I intend to keep on singing and I'm hopeful that with an ever increasing repertoire of Gaelic songs, I could potentially release a Solo album within a year. It would be great to record songs that I've already collected and also, continue to add to that collection. It would also be great to get a variety of musicians involved and potentially join a band in say 2 or 3 years time.
Read more about Ruairidh Cormack

Facebook: http://www.facebook.com/
Twitter: http://www.twitter.com/
If you wish to attend the final ceremony, tickets are available to buy via: https://www.horsecross.co.uk/whats-on/the-mg-alba-scots-trad-music-awards-35002 For box office call 01738 621031 or email box@horsecross.co.uk. Bands performing on Saturday 1st December include includes Croft No Five, Mànran, Karine Polwart Trio, Hannah Rarity, Eabhal, Catriona Watt, Gordon Duncan Experience and Gerda Stevenson. and more to be announced. There will also be a late night ceilidh after the Awards till 1am.
If you would like to support Hands Up for Trad in their work with Scottish trad music and musicians please consider supporting our Patreon campaign. We have 3 tiers starting at $1 a month and everything helps support us in our work. Read more at www.patreon.com/handsupfortrad