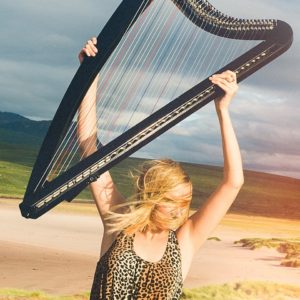 Congratulations to Rachel Newton who have been nominated in Belhaven Bursary for Innovation in the MG ALBA Scots Trad Music Awards 2018. Vote now!
We asked Rachel Newton of Rachel Newton the following questions.
Tell us about yourself
Singer, harpist and composer Rachel Newton specialises in interpreting and reworking traditional folk songs in both English and Scottish Gaelic alongside her own innovative compositions. Rachel was the 2017 BBC Radio 2 Folk Musician of the Year and has also previously been awarded Instrumentalist of the Year at the Scots Trad Music Awards, the Ignition Award for Innovation and a Critics Award for Theatre in Scotland for Best Use of Music (CATS) with The Rowantree Theatre Company. Her album Here's My Heart Come Take It was shortlisted for the Scottish Album of the Year (SAY) Award as one of Scotland's top ten outstanding albums and was described as 'a beauty' in the Observer. Alongside her burgeoning solo career, Rachel is a much in demand collaborator and is a founding member of The Shee and BBC Radio 2 Folk Award Best Group 2017 The Furrow Collective as well as being an integral part of various commissioned group projects such as The Elizabethan Session and the upcoming The Lost Words Spell Songs.
'Haunting and compelling' The Guardian
'The sound of modern Scotland' The Herald
Why are you involved in Scottish music?
I was born and brought up in Edinburgh and was lucky to get free tuition in Clarsach at my school. I went to a Gaelic speaking school and was always surrounded by music and song. I also attended Feis Rois and Feis Dhun Eideann, which my mum set up in Edinburgh. The Feis really encouraged me to keep going with music.
Any particular career highlights?
Performing festivals with my own band and with The Shee and The Furrow Collective are highlights, especially The Shee's Continuum project at Celtic Connections and my own band's main stage show at Cambridge Folk Festival.
What are your plans for the future?
I am developing my solo work and am looking forward to future collaborations which will expand on my sound. Other projects I'm looking forward to next year are The Lost Words Spell Songs and the weekend I'm curating at Kings Place, London in March called Trad. Reclaimed: Women in Folk.
Read more about Rachel Newton
http://www.rachelnewtonmusic.com
Facebook: http://www.facebook.com/rachelnewtonmusic
Twitter: http://www.twitter.com/rachel_newton_
If you wish to attend the final ceremony, tickets are available to buy via: https://www.horsecross.co.uk/whats-on/the-mg-alba-scots-trad-music-awards-35002 For box office call 01738 621031 or email box@horsecross.co.uk. Bands performing on Saturday 1st December include includes Croft No Five, Mànran, Karine Polwart Trio, Hannah Rarity, Eabhal, Catriona Watt, Gordon Duncan Experience and Gerda Stevenson. and more to be announced. There will also be a late night ceilidh after the Awards till 1am.
If you would like to support Hands Up for Trad in their work with Scottish trad music and musicians please consider supporting our Patreon campaign. We have 3 tiers starting at $1 a month and everything helps support us in our work. Read more at www.patreon.com/handsupfortrad