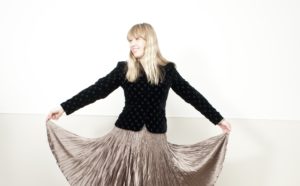 Congratulations to Patsy Reid who have been nominated in Instrumentalist of the Year sponsored by Royal Scottish Country Dance Society in the MG ALBA Scots Trad Music Awards 2018. Vote now!
We asked Patsy Reid of Patsy Reid the following questions.
Tell us about yourself
I am Patsy Reid and I am a fiddle/viola player based in Perth. I am lucky enough to play music just about every day, dividing my time between performing, recording, teaching and writing music. Such a varied career so far has allowed me to continue to improve as an instrumentalist, whilst appreciating the exciting opportunities that come my way. As a busy session player, I get the opportunity to work with incredible musicians and it is them who inspire me to continue to work to be the best I can be, keeping good music, good relationships and good attitudes at the forefront.
Why are you involved in Scottish music?
Apart from choosing music over an entirely different career path at school, I don't ever remember choosing Scottish music over another genre. It just kind of happened. My parents listened to bands like Capercaillie, Runrig and The Rankin Family as well as more mainstream popular stuff and at age 8, they found me a violin teacher in Dundee and then I joined the Tayside Youth Strathspey & Reel Society (now the Tayside Young Fiddlers). I then did fiddle competitions and went to Alasdair Fraser's and Catriona Macdonald's summer courses and it was once I started learning Scottish music by ear that things really took off. I simply loved it. Obviously the social aspect appealed to me and it still does. It's incredibly infectious to be around people who have a deep connection through music and language and I love how innovative people are in our simply thriving scene. I feel incredibly privileged to be in this club and also thankful that my parents were able to invest in my music learning, allowing me to gain experience and classical violin technique simultaneously. I believe this combination of learning has allowed me to develop a unique style in order for me to stand out and do what I do today.
Any particular career highlights?
Most recently, I was particularly chuffed when Mark Knopfler sent me a guitar amp in the post!! (I've been teaching myself) I'm going to be playing (fiddle!) in his new musical version of Local Hero and thanks to Dave Milligan I was part of the team demo-ing tracks for the show and I got to work closely with Mark and his team at his incredible studio, British Grove in London. I loved every second in that environment and had to stop myself squealing with excitement a lot!! The best part was to see how those guys at the top of the tree work and it was very inspiring to find that they were just really great musicians, lovely people and generous in every way. It really has been a very life affirming experience so far. On paper though, and I suppose other people get very excited about the fact that I was part of the band at the closing ceremony of the Commonwealth Games, where we performed Caledonia and Auld Lang Syne with Kylie Minogue! It was great fun and a memorable highlight! And one more – it was very cool that my first time in New York was to play in a sold out Carnegie Hall with Zakir Hussain as part of a sold out 4 week tour of America! Again, I pinched myself at the time and knew that it doesn't get much better then that!
What are your plans for the future?
Ultimately to keep doing what I'm doing. I'd love to get to the point where I could offer some guitar (I've been working on electric, bass and tenor) as part of my session work. By the age of 35, I know that it's important to keep enough time in the diary to work on my own development as an artist and I have some interesting stuff in the pipeline, including songs! I'm also working on my next Glint o' Scottish Fiddle release and would love to do lots of volumes of that over time, shining a light on some lesser played tunes from the Scottish fiddle tradition.
Read more about Patsy Reid
http://www.patsyreid.com
Facebook: http://www.facebook.com/patsy.reid.3
Twitter: http://www.twitter.com/patsyreid
If you wish to attend the final ceremony, tickets are available to buy via: https://www.horsecross.co.uk/whats-on/the-mg-alba-scots-trad-music-awards-35002 For box office call 01738 621031 or email box@horsecross.co.uk. Bands performing on Saturday 1st December include includes Croft No Five, Mànran, Karine Polwart Trio, Hannah Rarity, Eabhal, Catriona Watt, Gordon Duncan Experience and Gerda Stevenson. and more to be announced. There will also be a late night ceilidh after the Awards till 1am.
If you would like to support Hands Up for Trad in their work with Scottish trad music and musicians please consider supporting our Patreon campaign. We have 3 tiers starting at $1 a month and everything helps support us in our work. Read more at www.patreon.com/handsupfortrad