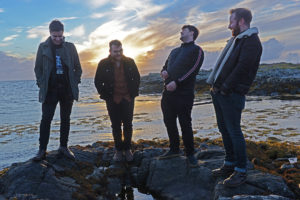 Congratulations to Niteworks who have been nominated in Live Act of the Year sponsored by Greentrax Recordings in the MG ALBA Scots Trad Music Awards 2018. Vote now!
We asked Chris Nicolson of Niteworks the following questions.
Tell us about yourself
Niteworks fuse the Gaelic language and traditional music that was central to their upbringing on the Isle of Skye with electronica and techno to create an electrifying and genre-defying sound. The band, comprising of Innes Strachan (Synth), Allan MacDonald (Pipes), Christopher Nicolson (Bass) and Ruairidh Graham (Drums), have had their busiest year in 2018, which saw the release of their second album 'Air Fàir an Là', the follow up to their critically acclaimed 'NW', released 2015. This comes on top of some already significant achievements. The band welcomed in the New Year at Edinburgh's Hogmanay 18 having been asked to curate the music to accompany the expansive fireworks display, broadcast not only around Edinburgh but live on BBC Scotland. The band also played to a sold out 12,000 audience at the SSE Hydro in Glasgow at Celtic Connections.
Why are you involved in Scottish music?
We tried to play K-Pop, but it didn't really work with the pipes.
Any particular career highlights?
Curating the music to accompany the fireworks at Edinburgh's Hogmanay 18. Supporting the Grit Orchestra in the, sold out, Hydro in Glasgow. And headlining a the Rainforest World Music Festival in Borneo, Malaysia; scaring off troops of animals while sound checking a kick drum.
What are your plans for the future?
Continue trying to blur the lines between Scottish trad & contemporary electronica.
Read more about Niteworks
http://niteworksband.com
Facebook: http://www.facebook.com/niteworksband
Twitter: http://www.twitter.com/niteworksband
If you wish to attend the final ceremony, tickets are available to buy via: https://www.horsecross.co.uk/whats-on/the-mg-alba-scots-trad-music-awards-35002 For box office call 01738 621031 or email box@horsecross.co.uk. Bands performing on Saturday 1st December include includes Croft No Five, Mànran, Karine Polwart Trio, Hannah Rarity, Eabhal, Catriona Watt, Gordon Duncan Experience and Gerda Stevenson. and more to be announced. There will also be a late night ceilidh after the Awards till 1am.
If you would like to support Hands Up for Trad in their work with Scottish trad music and musicians please consider supporting our Patreon campaign. We have 3 tiers starting at $1 a month and everything helps support us in our work. Read more at www.patreon.com/handsupfortrad