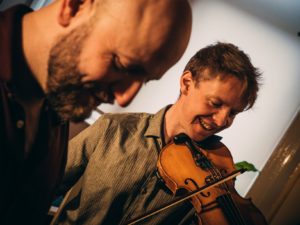 Congratulations to Nae Plans who have been nominated in Belhaven Bursary for Innovation in the MG ALBA Scots Trad Music Awards 2018. Vote now!
We asked Hamish Napier of Nae Plans the following questions.
Tell us about yourself
'Nae Plans' is the daredevil, off-the-cuff folk show featuring Hamish Napier (piano, flute, whistle, vocals) and Adam Sutherland (fiddle).
We take our cue from the spontaneity of the traditional music session, and sit down on stage without knowing what we will play. The 'Nae Plans' philosophy leaves no room for rehearsals, set lists or even discussion about the performance prior to the event. Our music ranges from traditional songs and tunes, to contemporary numbers, to our own compositions and improv and brings a crucial part of Scotland's music culture, the informal session, with its open endedness and spontaneity onto the concert platform. It makes for a seat-of-the-pants, incredibly exciting experience for both listener and performer, putting the audience at the centre of an energetic, dynamic and engaging performance.
Why are you involved in Scottish music?
Scottish music is in our blood and we're steeped in the tradition of the Highlands but influenced by the myriad of influences threaded through the amazing Scottish music scene.
The Nae Plans format is closer to the experience of the raucous and infamous 3am 'kitchen-session' than the, usually meticulously rehearsed, concert platform and we love sharing our 'Highland Living Room' with venues and festivals nationally and internationally.
Any particular career highlights?
Taking the Nae Plans concept from the studio to the road for our first Autumn Tour in 2015 and being nominated for 'Live Act of the Year' in the Scots Trad Awards.
The philosophy of our debut album 'Nae Plans – Vol.1' was to record an album that was strictly unrehearsed. We barred any discussion about what tunes we would play or how we would arrange them. After recording literally anything that came into our heads for a period of two days, we chose for the album the best bits of some eight hours of jigs, reels and songs. This has evolved into an annual Autumn Tour and we particularly enjoy hooking up with surprise guest 'Nae Planners' along the way.
It was also a delight to play three shows to packed houses at the Edinburgh Festival Fringe 2016 and to develop the Nae Plans 'Highland Living Room' proto-type stage set, much loved by venues and audiences alike.
What are your plans for the future?
Technically we're not allowed 'plans'…but we can reveal that we're looking forward to more international appearances with return visits to Canada lined up and our first Nae Plans Australian and New Zealand festivals following our enthusiastically received show at The Visit (Showcase Scotland) earlier this year. Nae Plans is also a much in-demand and innovative educational project, and we're looking to tying in concept sessions with particpants of all ages on our travels.
We've had the joy of inviting occasional guest 'Nae Planners' on stage – we'd love to extend this into a 2020 UK tour of double-bill shows throughout the UK with local musicians at every venue!
Read more about Nae Plans
http://www.naeplans.co.uk/about/
Facebook: http://www.facebook.com/naeplans
Twitter: http://www.twitter.com/naeplans
If you wish to attend the final ceremony, tickets are available to buy via: https://www.horsecross.co.uk/whats-on/the-mg-alba-scots-trad-music-awards-35002 For box office call 01738 621031 or email box@horsecross.co.uk. Bands performing on Saturday 1st December include includes Croft No Five, Mànran, Karine Polwart Trio, Hannah Rarity, Eabhal, Catriona Watt, Gordon Duncan Experience and Gerda Stevenson. and more to be announced. There will also be a late night ceilidh after the Awards till 1am.
If you would like to support Hands Up for Trad in their work with Scottish trad music and musicians please consider supporting our Patreon campaign. We have 3 tiers starting at $1 a month and everything helps support us in our work. Read more at www.patreon.com/handsupfortrad