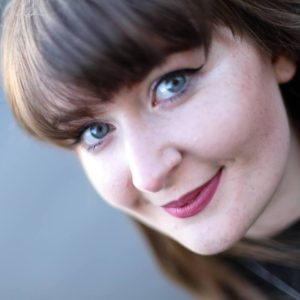 Congratulations to Josie Duncan who have been nominated in Gaelic singer of the Year sponsored by Macmeanmna in the MG ALBA Scots Trad Music Awards 2018. Vote now!
We asked Josie Duncan of Josie Duncan the following questions.
Tell us about yourself
I am a folk singer and clarsach player from the Outer Hebridean Isle of Lewis. Having been immersed in Glasgow's fast moving traditional music scene for the past few years where I studied at the Royal Conservatoire of Scotland, I have been enjoying working with a diverse range of musicians on an exiting variety of projects.
I regularly perform Gaelic songs with Folktronica outfit 'INYAL', Gaelic and Scots songs in my duo with Pablo Lafuente and as a soloist, self-accompanying myself on the clarsach. I also conduct Paisley Gaelic choir.
"Effortlessly pure, supple vocals. It felt like a fresh breeze." – The Scotsman.
Why are you involved in Scottish music?
I grew up on Lewis, where traditional music is woven into the fabric of the island. As a young person in the Hebrides, there were fantastic opportunities to engage with native Scottish music and explore it throughout school and within the community, including the Mod and local ceilidhs. Upon moving to Glasgow to study traditional music at the RCS, I met some amazing and talented people who were/are part of a warm, welcoming and vibrant community.
Performing Scottish music has yielded some incredible experiences and continues to be a vital social and creative outlet for me. The process of researching traditional song and then developing ideas and arrangements with talented individuals remains as thrilling several years into my career as it was when I started and I feel so incredibly lucky to be doing what I love.
Any particular career highlights?
Career Highlights:
Taking part in and winning the Radio 2 Young Folk Award with Pablo Lafuente last year.
Performing at Proms in the Park 2017 on Glasgow Green.
Performing to 20,000 people at Fairport's Cropredy Convention.
Performing as the soloist for Phil Cunningham's Highlands and Islands suite at Celtic Connections last year.
Recording and releasing two debut albums this year, The Morning Tempest with Pablo Lafuente and self titled INYAL, both of which I have been touring throughout 2018 at venues and festivals across the UK.
What are your plans for the future?
I am looking forward to what is already shaping up to be a busy year in 2019, and one which will see performances, tours and recordings under several different guises.
Read more about Josie Duncan
http://www.josieduncanmusic.com
Facebook: http://www.facebook.com/JosieDuncanMusic
Twitter: http://www.twitter.com/JosieDuncanSong
If you wish to attend the final ceremony, tickets are available to buy via: https://www.horsecross.co.uk/whats-on/the-mg-alba-scots-trad-music-awards-35002 For box office call 01738 621031 or email box@horsecross.co.uk. Bands performing on Saturday 1st December include includes Croft No Five, Mànran, Karine Polwart Trio, Hannah Rarity, Eabhal, Catriona Watt, Gordon Duncan Experience and Gerda Stevenson. and more to be announced. There will also be a late night ceilidh after the Awards till 1am.
If you would like to support Hands Up for Trad in their work with Scottish trad music and musicians please consider supporting our Patreon campaign. We have 3 tiers starting at $1 a month and everything helps support us in our work. Read more at www.patreon.com/handsupfortrad