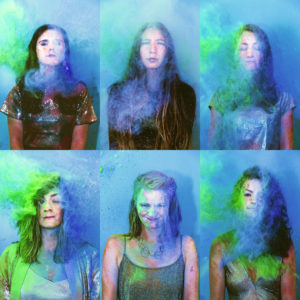 Congratulations to HEISK who have been nominated in Up and Coming Artist of the Year sponsored by Royal Conservatoire of Scotland in the MG ALBA Scots Trad Music Awards 2018. Vote now!
We asked Catriona Hawksworth of HEISK the following questions.
Tell us about yourself
HEISK are from all over Scotland, although are now based in Glasgow. The band has roots in traditional music and features: Catriona Hawksworth – keys; Lauren Macdonald – kit; Megan MacDonald – accordion; Rosie Munro – fiddle; Sally Simpson – fiddle; and Becca Skeoch – electroharp.
Why are you involved in Scottish music?
We all come from different areas in Scotland and were influenced by our local traditions to different degrees. Between us, as children, we attended Feisean, Edinburgh Youth Gaitherin, Tinto Summer School, Ceilidh Trails, Plockton Music School, and RCS Juniors. This gave us a strong grounding in traditional music and inspired us to continue our education and pursue careers in music. Lauren brings an exciting fresh aspect to our music from her background in jazz.
Any particular career highlights?
Our first gig was a sold out International Women's Day Celebration, so that was an exciting start for us. This summer we supported Niteworks on their album launch tour, followed by an amazing trip up to Skye Live.
What are your plans for the future?
We've just started out really, so we've got a lot ahead of us! We're looking forward to lots of fun gigs next year, and plan to record an album at some point.
Read more about HEISK
http://www.heisk.co.uk
Facebook: http://www.facebook.com/heiskband
Twitter: http://www.twitter.com/heiskmusic
If you wish to attend the final ceremony, tickets are available to buy via: https://www.horsecross.co.uk/whats-on/the-mg-alba-scots-trad-music-awards-35002 For box office call 01738 621031 or email box@horsecross.co.uk. Bands performing on Saturday 1st December include includes Croft No Five, Mànran, Karine Polwart Trio, Hannah Rarity, Eabhal, Catriona Watt, Gordon Duncan Experience and Gerda Stevenson. and more to be announced. There will also be a late night ceilidh after the Awards till 1am.
If you would like to support Hands Up for Trad in their work with Scottish trad music and musicians please consider supporting our Patreon campaign. We have 3 tiers starting at $1 a month and everything helps support us in our work. Read more at www.patreon.com/handsupfortrad