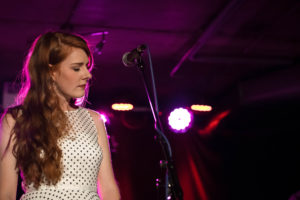 Congratulations to Hannah Rarity who have been nominated in Citty Finlayson Scots Singer of the Year sponsored by TMSA in the MG ALBA Scots Trad Music Awards 2018. Vote now!
We asked Hannah Rarity of Hannah Rarity the following questions.
Tell us about yourself
I'm a singer from West Lothian. I've loved to sing from a very young age and I have an interest in a number of musical genres. It was with the National Youth Choir of Scotland (between age 8-22) I developed my voice an discovered my fondness for traditional song. Having grown up in an area with very little Scottish music, I came to it later when I began the Scottish Music course at the RCS. It was then that I was able to throw myself into the scene in Glasgow and learn from some great musicians. In the past few years I've worked with a few bands, including Cherish the Ladies, performed and taken part in projects with the BBC SSO, SCO, RSNO, released an EP and debut album and performed with my band at festivals and concerts around the UK. I also do a bit of teaching and particularly enjoy my work with the charity 'Live Music Now'.
Why are you involved in Scottish music?
I feel Scottish music and song capture every aspect of the human experience. Drawing from this vast repertoire is a privilege and I really enjoy working with fellow traditional musicians to create interesting arrangements and interpretations of songs. When I sing I like to leave the audience with something to think about. The scene is also great fun to be a part of and it's exciting to see the variety of music coming from it.
Any particular career highlights?
A few highlights thus far include touring the US and Japan with Cherish the Ladies, winning the BBC Radio Scotland Young Traditional Musician in 2018, the first time I performed with Phil & Aly and the RSNO at their annual St Andrews Night concert in 2013 (I was terrified, but it was really great) and working on my album this year with some fantastic pals and musicians.
What are your plans for the future?
I'm working on some ideas for a collaborative song project around the issues of domestic and sexual violence that I'd like to get off the ground, and I'm looking into doing some more group/community singing work. I'd love to record an album of original material at some point in the future, so that's something to work towards.
As well as planning ahead, I like to take opportunities as they arise and try new things.
Read more about Hannah Rarity
http://hannahrarity.com
Facebook: http://www.facebook.com/hannahrarity
Twitter: http://www.twitter.com/hannahrarity
If you wish to attend the final ceremony, tickets are available to buy via: https://www.horsecross.co.uk/whats-on/the-mg-alba-scots-trad-music-awards-35002 For box office call 01738 621031 or email box@horsecross.co.uk. Bands performing on Saturday 1st December include includes Croft No Five, Mànran, Karine Polwart Trio, Hannah Rarity, Eabhal, Catriona Watt, Gordon Duncan Experience and Gerda Stevenson. and more to be announced. There will also be a late night ceilidh after the Awards till 1am.
If you would like to support Hands Up for Trad in their work with Scottish trad music and musicians please consider supporting our Patreon campaign. We have 3 tiers starting at $1 a month and everything helps support us in our work. Read more at www.patreon.com/handsupfortrad