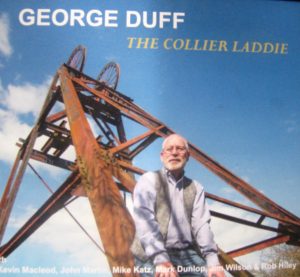 Congratulations to GEORGE DUFF who have been nominated in Citty Finlayson Scots Singer of the Year sponsored by TMSA in the MG ALBA Scots Trad Music Awards 2018. Vote now!
We asked GEORGE DUFF of GEORGE DUFF the following questions.
Tell us about yourself
George Duff is a singer/guitarist who is very well respected amongst his peers. He has been performing for over forty years and has toured throughout the UK, Europe and the United States alongside members and past members of bands such as The Tannahill Weavers, Jock Tamsons Bairns and The Easy Club. He has even played guitar for country-rock legend Emmy Lou Harris.
Having worked in the coal-mining industry for eighteen years, he has a keen interest in mining songs. He mostly sings traditional Scots and Irish songs and has featured on three albums of Robert Burns songs and has just released his first solo album "The Collier Laddie" featuring Kevin Macleod (The Occasionals), John Martin (The Tannahill Weavers,) Mike Katz (The Battlefield Band) and Mark Dunlop (Malinky) amongst others.
"One of the most soulful of Scots voices" – Karine Polwart
"George's interpretations of songs have always struck me with their clarity. He gets it. He's a terrific singer and a classy guitar player too. One of the Scottish scene's best rounded performers" – Kris Drever.
Why are you involved in Scottish music?
I've had an interest since i was a ten year old schoolboy and won The Burns Prize in school. Spent my youth in Sandy Bells Bar listening to legendary musicians in sessions and eventually being part of the sessions and playing with these same musicians, ultimately forming bands with them. Apart from that are the usual incentives of sex, drugs, sausage rolls and the huge financial rewards associated with being a folk musician!
Any particular career highlights?
Releasing my first solo CD "The Collier Laddie".
What are your plans for the future?
Do more gigging at clubs and festivals promoting my new album "The Collier Laddie" including appearing at Celtic Connections 2019 alongside Kevin Macleod, John Martin and Mike Katz.
Read more about GEORGE DUFF
http://www.birnamcd.com
Facebook: http://www.facebook.com/georgeduff
Twitter: http://www.twitter.com/
If you wish to attend the final ceremony, tickets are available to buy via: https://www.horsecross.co.uk/whats-on/the-mg-alba-scots-trad-music-awards-35002 For box office call 01738 621031 or email box@horsecross.co.uk. Bands performing on Saturday 1st December include includes Croft No Five, Mànran, Karine Polwart Trio, Hannah Rarity, Eabhal, Catriona Watt, Gordon Duncan Experience and Gerda Stevenson. and more to be announced. There will also be a late night ceilidh after the Awards till 1am.
If you would like to support Hands Up for Trad in their work with Scottish trad music and musicians please consider supporting our Patreon campaign. We have 3 tiers starting at $1 a month and everything helps support us in our work. Read more at www.patreon.com/handsupfortrad