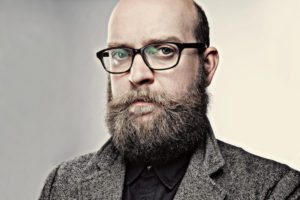 Congratulations to Findlay Napier who have been nominated in Live Act of the Year sponsored by Greentrax Recordings in the MG ALBA Scots Trad Music Awards 2018. Vote now!
We asked Findlay Napier of Findlay Napier the following questions.
Tell us about yourself
Following huge acclaim for his 2015 solo debut VIP: Very Interesting Persons, Scotland's Findlay Napier again unites superb songwriting, magpie-minded imagination and compellingly vivid vocals on his new album Glasgow. A characteristically wry yet lyrical, offbeat yet heartfelt paean to his adopted home town – marking 20 years since Napier arrived from his Highland birthplace – it features freshly-penned, instantly memorable originals alongside classic and contemporary gems from the city's rich ballad canon. Continuing their fruitful collaboration on VIP, revered UK songsmith Boo Hewerdine reprises his roles as producer and co-writer.
From modern-day vignettes like opener 'Young Goths In the Necropolis' – its bittersweet emotional charge evoking a Caledonian Loudon Wainwright – to the tenderly imagined love-story of 'The Locarno, Sauchiehall St 1928', reminiscent of the late great Michael Marra (whose wonderfully whimsical 'King Kong's Visit to Glasgow' is also covered), the album's musical map spans shipyards and late-night chippies, wily street veterans and warring football fans, patron saints and musical icons.
Other covers include a terrifically gallus (Scots for 'bold, mischievous, cheeky' – ie quintessentially Glaswegian) version of Hamish Imlach's 'Cod Liver Oil and the Orange Juice'; a dreamily ardent rendering of The Blue Nile's 'A Walk Across the Rooftops', and a gorgeous new ballad, 'Marchtown', by ex-Delgado Emma Pollock.
With accompaniment mostly distilled to artful acoustic guitar, plus occasional piano and Donna Maciocia's delicate backing vocals, Napier's remarkable voice – by turns burly, gritty, fierce and forlorn, bitingly acerbic and exquisitely nuanced – is rightfully foregrounded throughout, capturing scenes and characters as potently as the CD cover image by Pulitzer Prize-winning Magnum photographer Raymond Depardon.
Napier's fast-growing stature as one of the UK's most distinctively gifted contemporary folk artists builds on his previous band work with Back of the Moon and The Bar Room Mountaineers, also reflecting his long-time immersion in the vibrant stylistic melting-pot of Glasgow's world-famous music scene. As promoter of the decade-old Hazy Recollections concert series and founder of the Glasgow Songwriting Festival, he's been particularly influential in fostering cross-fertilisation between the city's folk and indie communities.
Spring 2018 saw him touring with acclaimed contemporary protest-song showcase Shake the Chains, whose September album release is followed by more dates early next year.
While the sorrow and anger simmering through Glasgow track 'There's More to Building Ships' (originally written for Shake the Chains) highlight Napier's political leanings, humour is an equally vital element in his work, both recorded and live – as reflected in his recent sideline career as a stand-up comedic. Hence his readiness to embrace not only the oft-disparaged label of folk singer, but also another, likewise timeless role: "I do love that old-fashioned, all-round idea of an 'entertainer'," he says. "But then that's totally what the best folk singers are; they'll have you in absolute hysterics, in between punching you in the gut – people like Loudon Wainwright, John Prine, Michael Marra: that's the absolute pinnacle, as far as I'm concerned."
Why are you involved in Scottish music?
Scottish music is part of my life and has been as long as I can remember. From early family parties and get togethers, through participating in Feis Spé to being in the first intake of the RCS Scottish Music degree in 1996 and forming a folk band Back of the Moon and touring the world Scottish Music continues to speak to me and informs my songwriting and live performances. It is a remarkable community and I a proud to be part of that and to represent our music at home and abroad.
Any particular career highlights?
VIP: Very Interesting Persons album #2 in Telegraph's Top Folk Albums of 2014
Working with Boo Hewerdine on "VIP:Very Interesting Persons" and "Glasgow" albums.
Supporting Eddi Reader on three UK tours.
Two week solo tour of Canada this summer.
Having my songs covered by other acts- ie "George" was covered by BBC Radio 2 Folk Award Winning Duo Greg Russell and Ciaran Algar.
What are your plans for the future?
I am making an album of Traditional Scottish Songs with Gillian Frame and Mike Vass called "The Ledger" due to be released in 2019. I am making an EP with English singer-songwriter Megan Henwood called "Story Song Scientists" which we're releasing to coincide with our March 2019 UK tour (loads of shows in Scotland). I have an official showcase at Folk Alliance International in Montreal. I'm involved in a songwriting project called "War and Peace" with Bella Hardy and Greg Russell writing songs about the end of World War One.
Read more about Findlay Napier
http://www.findlaynapier.com
Facebook: http://www.facebook.com/findlaynapiermusic
Twitter: http://www.twitter.com/findlaynapier
If you wish to attend the final ceremony, tickets are available to buy via: https://www.horsecross.co.uk/whats-on/the-mg-alba-scots-trad-music-awards-35002 For box office call 01738 621031 or email box@horsecross.co.uk. Bands performing on Saturday 1st December include includes Croft No Five, Mànran, Karine Polwart Trio, Hannah Rarity, Eabhal, Catriona Watt, Gordon Duncan Experience and Gerda Stevenson. and more to be announced. There will also be a late night ceilidh after the Awards till 1am.
If you would like to support Hands Up for Trad in their work with Scottish trad music and musicians please consider supporting our Patreon campaign. We have 3 tiers starting at $1 a month and everything helps support us in our work. Read more at www.patreon.com/handsupfortrad