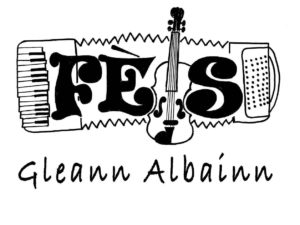 Congratulations to Fèis Gleann Albainn who have been nominated in Community Project of the Year sponsored by Gordon Duncan Memorial Trust in the MG ALBA Scots Trad Music Awards 2018. Vote now!
We asked Bill Skeoch of Fèis Gleann Albainn the following questions.
Tell us about yourself
We are a small organisation baed in Fort Augustus organising workshops for children and adults. Our main event is in February when we run a long weekend for adults. This has become so popular that we have to cap the numbers attending and thus are turning people away.
Why are you involved in Scottish music?
This is a hard one! My immediate thought is; 'why not?' It is something that most of us have always been involved with. How many music genres are there where you can take your instrument to a pub and join in with others making music?
Any particular career highlights?
NessFest was a festival we ran in 2007. We had on the bill: The Shee (before they changed their name) LAU, Shooglenifty and Wolfstone among others.
What are your plans for the future?
That would be telling!
nb. This website wouldn't accept the link for our facebook page.
Read more about Fèis Gleann Albainn
http://feisgleannalbainn.co.uk
Facebook: http://www.facebook.com/pages/category/Nonprofit-Organization/Fèis-Gleann-Albainn-Adult-Fèis-177709865895/
Twitter: http://www.twitter.com/
If you wish to attend the final ceremony, tickets are available to buy via: https://www.horsecross.co.uk/whats-on/the-mg-alba-scots-trad-music-awards-35002 For box office call 01738 621031 or email box@horsecross.co.uk. Bands performing on Saturday 1st December include includes Croft No Five, Mànran, Karine Polwart Trio, Hannah Rarity, Eabhal, Catriona Watt, Gordon Duncan Experience and Gerda Stevenson. and more to be announced. There will also be a late night ceilidh after the Awards till 1am.
If you would like to support Hands Up for Trad in their work with Scottish trad music and musicians please consider supporting our Patreon campaign. We have 3 tiers starting at $1 a month and everything helps support us in our work. Read more at www.patreon.com/handsupfortrad