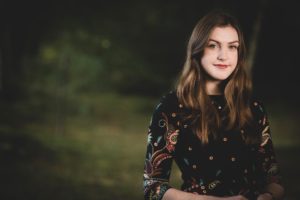 Congratulations to Eilidh Cormack who have been nominated in Gaelic singer of the Year sponsored by Macmeanmna in the MG ALBA Scots Trad Music Awards 2018. Vote now!
We asked Eilidh Cormack of Eilidh Cormack the following questions.
Tell us about yourself
Eilidh Cormack, 22, from the Isle of Skye, won the Ladies' Gold Medal at the Royal National Mòd on her first attempt at the age of 18 and was a semi-finalist in BBC Scotland's Young Traditional Musician of the Year 2016. Hailing from a family of well-known Gaelic singers, she has a wealth of experience starting from an early age, both in concert and at festivals such as Celtic Connections, Ligonier Games in the US and Belladrum's Tartan Heart Festival. She has recently lent her voice to music for The Bard's Tale IV, a new Xbox game, and to Netflix's Outlaw King, to be released November 9th. She was recently named the Scottish Government's Gaelic Ambassador of the Year for her work in supporting the language, primarily through singing and teaching. She also performs with the up-and-coming group SIAN alongside Ceitlin LR Smith, Ellen MacDonald and Innes White, singing the songs of female Gaelic song-makers. SIAN have recently released a single with Niteworks, 'Air Fàir an Là'.
Why are you involved in Scottish music?
Scottish music, and particularly Gaelic song, is quite honestly everything to me. Having grown up with my mother and father teaching me songs, coming through the Fèisean movement, competed in Mòds from a young age, and learning from respected tradition-bearers in my teens, I have been very fortunate to have been surrounded by Scottish music my whole life. I love the feeling I get from listening to archives of old songs (I now work for one!) and learning those songs from the tradition, and making them my own. It's a great feeling to know you're protecting and preserving the tradition by sharing the songs with your audience and with other singers.
Any particular career highlights?
Winning the Gold Medal and making it to the semis of Young Trad are without a doubt highlights. Performing at the SSE Hydro in front of thousands in January alongside SIAN and Niteworks was an amazing experience. Travelling to the USA after winning the An Comunn Gàidhealach Ladies' Gold Medal in order to sing for them over there was a real honour too, as well as heading over to Celtic Colours in Cape Breton, supposed to be supervising a school trip, and getting to perform at the Fringe events instead! It's been amazing to work with Ged Grimes of Simple Minds recently for a few songs on The Bard's Tale IV, and being part of a Netflix blockbuster – meeting the stars of the film and teaching them a little Gaelic! I'm heading to Delhi for a festival in the next couple of weeks, and so I imagine that's going to be a career highlight too!
What are your plans for the future?
SIAN are heading on tour just before the awards, but we are planning an album for early next year, so that's all really exciting, and we're continue to build the group up. For myself, I plan to do more solo and release an album for myself as well in the next few years. The Gaelic Ambassador award has encouraged me to keep working for the language, both through singing and teaching, so in the meantime I'm hoping to take up any opportunities that arise to sing for people and to contribute to games, films etc. Looking forward to the future!
Read more about Eilidh Cormack
https://www.youtube.com/watch?v=cQZZ0syj4YY
Facebook: http://www.facebook.com/sianceol
Twitter: http://www.twitter.com/EilidhC_
If you wish to attend the final ceremony, tickets are available to buy via: https://www.horsecross.co.uk/whats-on/the-mg-alba-scots-trad-music-awards-35002 For box office call 01738 621031 or email box@horsecross.co.uk. Bands performing on Saturday 1st December include includes Croft No Five, Mànran, Karine Polwart Trio, Hannah Rarity, Eabhal, Catriona Watt, Gordon Duncan Experience and Gerda Stevenson. and more to be announced. There will also be a late night ceilidh after the Awards till 1am.
If you would like to support Hands Up for Trad in their work with Scottish trad music and musicians please consider supporting our Patreon campaign. We have 3 tiers starting at $1 a month and everything helps support us in our work. Read more at www.patreon.com/handsupfortrad