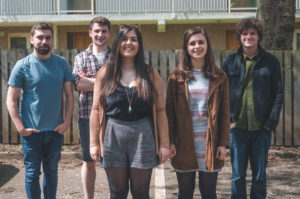 Congratulations to Eabhal who have been nominated in Up and Coming Artist of the Year sponsored by Royal Conservatoire of Scotland in the MG ALBA Scots Trad Music Awards 2018. Vote now!
We asked Nicky Kirk of Eabhal the following questions.
Tell us about yourself
Eabhal came together while based on the Isle of South Uist in the Outer Hebrides. Playing traditional music the band draws inspiration from many different cultures. After having performed as an instrumental act for three years the band were joined by Gaelic singer Kaitlin Ross a year ago.
Why are you involved in Scottish music?
We all grew up listening to and playing traditional music. The Scottish traditional music 'scene' is a great thing to be involved in at the moment. It is really inspiring to see so much music, and of such a high standard, being created within it.
Any particular career highlights?
Eabhal were recently named Hands up for Trad, Battle of the Folk Bands 2018 winners at Edinburgh Tradfest. Following that the band had a great summer of gigging and festivals including a week of performances at Festival Interceltique de Lorient
What are your plans for the future?
We're on the cusp of releasing our debut album, including a launch tour throughout the UK.
Read more about Eabhal
http://www.eabhal.com
Facebook: http://www.facebook.com/eabhalmusic
Twitter: http://www.twitter.com/eabhalmusic
If you wish to attend the final ceremony, tickets are available to buy via: https://www.horsecross.co.uk/whats-on/the-mg-alba-scots-trad-music-awards-35002 For box office call 01738 621031 or email box@horsecross.co.uk. Bands performing on Saturday 1st December include includes Croft No Five, Mànran, Karine Polwart Trio, Hannah Rarity, Eabhal, Catriona Watt, Gordon Duncan Experience and Gerda Stevenson. and more to be announced. There will also be a late night ceilidh after the Awards till 1am.
If you would like to support Hands Up for Trad in their work with Scottish trad music and musicians please consider supporting our Patreon campaign. We have 3 tiers starting at $1 a month and everything helps support us in our work. Read more at www.patreon.com/handsupfortrad