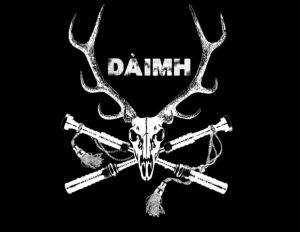 Congratulations to Dàimh who have been nominated in Folk band of the Year sponsored by Threads of Sound in the MG ALBA Scots Trad Music Awards 2018. Vote now!
We asked Ross Martin of Dàimh the following questions.
Tell us about yourself
Dàimh – Gaelic Supergroup and un-challenged champions of straight in the eye Highland music are based around West Lochaber and the Isle of Skye.
Celebrating 20 years since their first gig, Dàimh have always remained true their original mission of presenting the Gaelic and Highland music that they feel so passionately about to audiences all over the world in a way that is accessible and enjoyable for one and all.
Why are you involved in Scottish music?
It's the only type of music we know how to play!
Any particular career highlights?
Scottish Music is in such an amazing place at the moment. The fact we still playing together and still part of this incredible scene after 20 years makes us feel very privileged indeed. To be nominated for an award such as this with all the amazing music going on right now definitely constitutes a career highlight.
What are your plans for the future?
World domination.
Read more about Dàimh
http://daimh.net/
Facebook: http://www.facebook.com/daimhmusic
Twitter: http://www.twitter.com/daimhmusic
If you wish to attend the final ceremony, tickets are available to buy via: https://www.horsecross.co.uk/whats-on/the-mg-alba-scots-trad-music-awards-35002 For box office call 01738 621031 or email box@horsecross.co.uk. Bands performing on Saturday 1st December include includes Croft No Five, Mànran, Karine Polwart Trio, Hannah Rarity, Eabhal, Catriona Watt, Gordon Duncan Experience and Gerda Stevenson. and more to be announced. There will also be a late night ceilidh after the Awards till 1am.
If you would like to support Hands Up for Trad in their work with Scottish trad music and musicians please consider supporting our Patreon campaign. We have 3 tiers starting at $1 a month and everything helps support us in our work. Read more at www.patreon.com/handsupfortrad