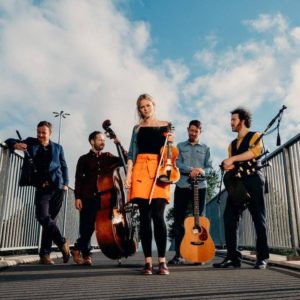 Congratulations to Breabach who have been nominated in Belhaven Bursary for Innovation in the MG ALBA Scots Trad Music Awards 2018. Vote now!
We asked Calum MacCrimmon of Breabach the following questions.
Tell us about yourself
Breabach are a 5 piece contemporary folk band focused on bringing a modern blend of Highland piping and Gaelic song out onto the larger world music scene. Our main drive as artists is to combine modern and traditional Scottish melodies with contemporary arrangements and most recently to embrace the use of expansive sonic landscapes. We hail from various corners of Scotland but have long resided in the city of Glasgow where there is a fevered hive of innovation and creativity on the trad scene, and we are proud to be a part of it!
Why are you involved in Scottish music?
Folk and trad music has really helped us to identify with who we are and where we come from. These elements of connection are possibly the biggest draw and heaviest inspiration for how we write and why we tour. It's a great adventure and responsibility taking your own music and culture out to new places. We are on a constant learning curve full of possibilities, and we love it.
Any particular career highlights?
In 2014 we took the lead role in a tri-cultural collaborative commission called The Boomerang Project. We were part of a team of around 25 folk; a mixture of Scottish Gaels, New Zealand Maoris and Australian Aboriginal tradition bearers and performed concerts at The Sydney Opera House, Womad New Zealand and The Commonwealth Games in Glasgow. We made a lot of life friends through this project, but it was also an exhilarating exchange of traditional culture and history. An experience which has continued to fuel our musical direction and broaden our sense of national identity.
What are your plans for the future?
The band have just released a brand new studio album entitled 'Frenzy of the Meeting' which draws from a very busy two years we have had performing concerts and festivals around the world. We are delighted to be taking our new music and stories on tour across the UK, Europe and Canada in 2019. There are currently talks in place for a brand new international collaboration in late 2019 which is very exciting – but we can't announce anything on that quite yet!
Read more about Breabach
http://www.breabach.com
Facebook: http://www.facebook.com/breabach
Twitter: http://www.twitter.com/breabach
If you wish to attend the final ceremony, tickets are available to buy via: https://www.horsecross.co.uk/whats-on/the-mg-alba-scots-trad-music-awards-35002 For box office call 01738 621031 or email box@horsecross.co.uk. Bands performing on Saturday 1st December include includes Croft No Five, Mànran, Karine Polwart Trio, Hannah Rarity, Eabhal, Catriona Watt, Gordon Duncan Experience and Gerda Stevenson. and more to be announced. There will also be a late night ceilidh after the Awards till 1am.
If you would like to support Hands Up for Trad in their work with Scottish trad music and musicians please consider supporting our Patreon campaign. We have 3 tiers starting at $1 a month and everything helps support us in our work. Read more at www.patreon.com/handsupfortrad