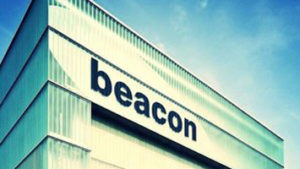 Congratulations to Beacon Arts Centre who have been nominated in Venue of the Year sponsored by Musicians' Union in the MG ALBA Scots Trad Music Awards 2018. Vote now!
We asked Sean Paul O'Hare of Beacon Arts Centre the following questions.
Tell us about yourself
The Beacon Arts Centre has fast established itself as a centre of excellence for the arts and education and engages young people normally excluded from participation in such opportunities. We build the life skills, music and general arts skills, self-esteem, aspirations and educational attainment of some of the Scotland's most disadvantaged children. Inverclyde is the second most deprived local authority area in Scotland with 39. 1% of all households falling within the country's poorest 15%. Approximately 2,500 young people and adults attended classes, workshops and community events in our first 6 months of our programme as part of our engagement strategy with the community.
The centre has flourished over the past five years and we are focused on creating opportunities for people to attend a host of folk and traditional music events featuring local, national and international artists. We have a thriving folk and traditional music scene here in Inverclyde with local sing song writer sessions and traditional sessions taking place on a regular basis. We aim to grow this part of our programme with greater emphasis on music workshops and structured classes. Traditional music plays an important role in our audience development plans and we have a number of ticketing incentives which generate even greater numbers for our folk and traditional gigs.
The Beacon Arts Centre's Business Plan for 2018 – 2021 also has the creation of an Inverclyde Folk and Traditional Music Festival as one of its key action points. We believe such a festival will create opportunities for local musicians to perform and also provide the platform for both national and international established artists to perform in front of welcoming and appreciative local audiences. We have a number of creative working partnerships in Inverclyde and we are also currently developing new working relationships with national music organisations which we hope will develop the folk and traditional music genre further in the region.
Folk and traditional music is a cornerstone for the future development of the Beacon Arts Centre and we are delighted that our work thus far has
been recognised with this nomination.
Why are you involved in Scottish music?
The Beacon Arts Centre was established in 2013 and has played host to numerous Scottish traditional and folk musicians and bands. The main aim is to develop We are in the process of creating a hub for traditional music on the west coast of Scotland.
Our studio is an exciting space which creates new opportunities for up and coming traditional musicians as well as encouraging local talent to perform from within the Inverclyde community.
The main theatre generates an outstanding atmosphere which established traditional acts embrace and thrive during their performances.
We have also devised a marketing strategy which also focuses on traditional music with specific audience profiling, accessible ticketing pricing and working in partnership with local arts organisations.
Any particular career highlights?
The Beacon Arts Centre has for the past five years showcased the very best of Scottish traditional and folk musical talent. We have developed local and national partnerships to generate further interest in traditional music in Scotland. The programme has numerous highlights with quality award winning traditional and folk acts such as Phil Cunningham and Aly Bain,Claire Hastings, Rura, Breabach,Fara, Nordic Fiddlers Bloc, Auld Hat, New Heids, Karen Matheson Band, Roddy Woomble, Emily Smith,Furrow Collective,Reely Jiggered,Siobhan Miller Eddi Reader, Adam Holmes, Rachel Sermanni, Blazin Fiddles, James Grant, Fara, Imar, Talisk, Skerevore, Fara and Mary Coughlan
Of course we are also extremely fortunate to also have within our programme, the SongWriters Uncovered Series which is held four times a year where the Beacon plays host to a series of concerts highlighting the talents of local singer songwriters in Inverclyde.
What are your plans for the future?
The Beacon Area Centre aims to develop our music programme with a key focus on traditional and folk music. We wish to highlight the local folk community along with continuing to programme established traditional acts. The Beacon will also be look to develop our educational programme by growing our music workshops, Scottish Gaelic classes, craft workshops alongside a structured traditional music classes.
The centre will also witness more projects celebrating Inverclyde's rich history and cultural significance and these initiatives will use local and national musicians to create these projects which will be enjoyed by audiences across the west coast.
The development of a folk and traditional music festival is part of our 2018 – 21 arts strategy and we look forward to creating a new three day festival which we envisage will attract the very best of Scottish and international traditional music acts in order to appeal to a local and national audience.
Read more about Beacon Arts Centre
http://www.beaconartscentre.co.uk
If you wish to attend the final ceremony, tickets are available to buy via: https://www.horsecross.co.uk/whats-on/the-mg-alba-scots-trad-music-awards-35002 For box office call 01738 621031 or email box@horsecross.co.uk. Bands performing on Saturday 1st December include includes Croft No Five, Mànran, Karine Polwart Trio, Hannah Rarity, Eabhal, Catriona Watt, Gordon Duncan Experience and Gerda Stevenson. and more to be announced. There will also be a late night ceilidh after the Awards till 1am.
If you would like to support Hands Up for Trad in their work with Scottish trad music and musicians please consider supporting our Patreon campaign. We have 3 tiers starting at $1 a month and everything helps support us in our work. Read more at www.patreon.com/handsupfortrad