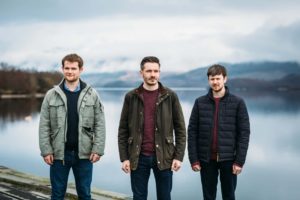 Congratulations to Assynt who have been nominated in Up and Coming Artist of the Year sponsored by Royal Conservatoire of Scotland in the MG ALBA Scots Trad Music Awards 2018. Vote now!
We asked Graham Mackenzie of Assynt the following questions.
Tell us about yourself
Scottish folk trio, 'Assynt' is David Shedden (Pipes/Whistles), Graham Mackenzie (Fiddle) and Innes White (Guitar/Mandolin). 2018 saw Assynt release their debut album, "Road to the North" recorded by Scott Wood of Oak Ridge Studios. Predominantly complied of self-penned tunes, the album draws upon influences from traditional Scottish fiddle and pipe music, in particular the Highland and Gaelic traditions.
Why are you involved in Scottish music?
Our involvement in Scottish music comes from our family backgrounds and a collective desire to continue the tradition. David grew up immersed in the piping tradition before going on to study Scottish Music at the Royal Conservatoire of Scotland; Innes attended the Plockton Centre of Excellence and has gone on to perform with the folk scene's top musicians including John McCusker, Karen Matheson and Donald Shaw; and Graham, after gaining a BMus from the Royal Northern College of Music, studied for a Masters in Scottish Music also at the Royal Conservatoire of Scotland.
As a band and also as individual musicians, we have had the opportunity to perform all over the world and collaborate with musicians from an array of different cultures through our involvement in Scottish music. We are keen to continue and develop traditional music through our compositions and arrangements influenced by different genres of music.
Any particular career highlights?
The excellent reviews we received for our debut album, performances at Celtic Connections, Blas, Piping Live along with a collaboration with Iranian piper Mohsen Sharifian and the Lian Band are the most recent career highlights.
Individually, the band has two BBC Radio Scotland Young Traditional Musician finalists, a BBC Radio 2 Young Folk Award winner and two Celtic Connections New Voices commissions.
What are your plans for the future?
The band is building on the success of the debut album by returning to Celtic Connections to play at the Mackintosh Church on 1st February. Following that will be short tours in April and July around Scotland. Work has already begun on new material for album number 2!
Read more about Assynt
https://www.assyntmusic.com
Facebook: https://www.facebook.com/AssyntMusic/
Twitter:
If you wish to attend the final ceremony, tickets are available to buy via: https://www.horsecross.co.uk/whats-on/the-mg-alba-scots-trad-music-awards-35002 For box office call 01738 621031 or email box@horsecross.co.uk. Bands performing on Saturday 1st December include includes Croft No Five, Mànran, Karine Polwart Trio, Hannah Rarity, Eabhal, Catriona Watt, Gordon Duncan Experience and Gerda Stevenson. and more to be announced. There will also be a late night ceilidh after the Awards till 1am.
If you would like to support Hands Up for Trad in their work with Scottish trad music and musicians please consider supporting our Patreon campaign. We have 3 tiers starting at $1 a month and everything helps support us in our work. Read more at www.patreon.com/handsupfortrad