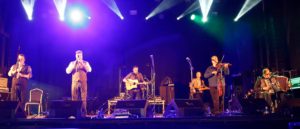 Congratulations to Skipinnish who have been nominated in Live Act of the Year sponsored by Greentrax Recordings in the MG ALBA Scots Trad Music Awards 2017. Vote now!
We asked Angus MacPhail of Skipinnish the following questions.
Tell us about yourself
We started way back in 1999 and through the years have had many additions and changes in the line-up and have evolved through different musical stages. We are lucky to be experiencing the most popular period in the 18 year history of the band at the moment. All stand alone Skipinnish gigs we have done this year have sold out in advance, and at the festivals we have played at, audiences have given us an amazing reaction. Music is a fickle old industry and we might not be riding this wave for long, but we are really enjoying it while it lasts! And we are so grateful to our existing fans who have stuck with us through eh line up changes for their amazing on going support and to all the new ones who have joined in the last while who have helped to make this year so special for us.
Why are you involved in Scottish music?
It is just part of who we all are. Regardless of whether we were doing this professionally, or not we would all be playing music as part of our lives. We a very lucky to be able to spend so much time doing something we enjoy so much.
Any particular career highlights?
This whole year has been a highlight for us! Hearing a sold out Barrowland singing not just the choruses but the verses of our songs was a particularly special experience. Winning Live Act of the Year at the Trad awards back in 2014 was a great highlight and it would be great to win it again.
What are your plans for the future?
Just to keep doing what we are doing and hope that folk keep enjoying our songs and tunes. We have a new song coming out in December and probably another album next year at some point. We have got a few exciting new venues in line for next year and have our fingers crossed that the tickets will go as well as this year!
Read more about Skipinnish
http://www.skipinnish.com/
Facebook: http://www.facebook.com/skipinnish
Twitter: http://www.twitter.com/skipinnish
If you would like to come along to the MG ALBA Scots Trad Music Awards in Paisley's Lagoon Centre call 0300 300 1210 or to buy online visit www.paisley2021.co.uk/events/the-mg-alba-scots-trad-music-awards. Tickets can also be purchased via Paisley Arts Centre. Bands performing on Saturday 2nd December include Elephant Sessions, The Shee Big Band, Siobhan Miller, Tidelines, Paisley Fèis, Snuffbox, The Seamus O'Sullivan Experience, Lori Watson, Jenna Reid and Harris Playfair, Songs of Bàrd Phàislig (featuring Gillebrìde MacIlleMhaoil, Sìneag MacIntyre, Màiri NicAonghais, Seonaidh MacIntyre, Ewan MacPherson, Mhairi Hall, Màiri Nic a Mhaoilein and more to be announced. There will also be a late night ceilidh after the Awards till 1am.