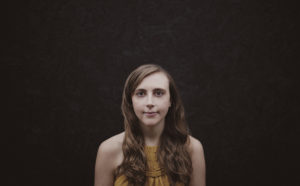 Congratulations to Siobhan Miller who have been nominated in Album of the Year sponsored by Birnam CD, Citty Finlayson Scots Singer of the Year sponsored by TMSA in the MG ALBA Scots Trad Music Awards 2017. Vote now!
We asked Siobhan Miller of Siobhan Miller the following questions.
Tell us about yourself
Siobhan Miller is regarded as one of the foremost singers in Scotland, having been performing traditional songs since her early teens.
Both of her solo albums – her 2015 debut, Flight of Time, and this year's follow-up, Strata – have been released to wide critical acclaim, and feature Siobhan working with some of Scotland's finest musicians and collaborators, presenting both traditional Scots songs and her own material.
Perhaps the ultimate recognition of the high regard in which she is held – amongst tradition bearers and the currently flourishing folk scene alike – Siobhan was the curator of Celtic Connections' opening concert in 2015, which celebrated the Traditional Music and Song Association of Scotland's fiftieth anniversary in the 2,000-capacity Glasgow Royal Concert Hall.
She has extensive experience as a live performer, having undertaken extensive domestic and international touring, delighting audiences in Austria, Germany, Italy, Switzerland, the USA and Barbados – as well as at many of the UK's major folk festivals, including Cambridge, Cropredy, Towersey, Underneath the Stars, Orkney, Shetland, Stonehaven, and The Great British Folk
Festival.
TV appearances include performances on American hit TV series Outlander and BBC Scotland's Hogmanay Live (2011).
Why are you involved in Scottish music?
I have been around traditional music since I was a child and have enjoyed it for as long as I can remember. There is a great sense of community within our Scottish folk scene and it feels great to be a part of that. A lot of the songs I sing have been passed down through generations and it feels really special to be part of that carrying stream.
Any particular career highlights?
Putting together the opening concert at Celtic Connections in 2015 for the TMSA's 50th anniversary was a real honour. It was fantastic to have the opportunity to invite many of the singers and musicians who have inspired me over the years to all come together on the Royal Concert Hall stage to celebrate an organisation which has been very supportive of my singing and my career.
I also really enjoyed singing in the theatre production Peter & Wendy in New York with Alan Kelly as musical producer. It was a great experience to work on this show and I loved singing the songs which Johnny Cunningham had written for the production.
What are your plans for the future?
I am currently working on material for a new album and I am planning tours and festival appearances for 2018.
Read more about Siobhan Miller
https://www.siobhanmiller.com/
Facebook: https://www.facebook.com/SiobhanMillerMusic/
Twitter: https://twitter.com/Siobhan_Miller
If you would like to come along to the MG ALBA Scots Trad Music Awards in Paisley's Lagoon Centre call 0300 300 1210 or to buy online visit www.paisley2021.co.uk/events/the-mg-alba-scots-trad-music-awards. Tickets can also be purchased via Paisley Arts Centre. Bands performing on Saturday 2nd December include Elephant Sessions, The Shee Big Band, Siobhan Miller, Tidelines, Paisley Fèis, Snuffbox, The Seamus O'Sullivan Experience, Lori Watson, Jenna Reid and Harris Playfair, Songs of Bàrd Phàislig (featuring Gillebrìde MacIlleMhaoil, Sìneag MacIntyre, Màiri NicAonghais, Seonaidh MacIntyre, Ewan MacPherson, Mhairi Hall, Màiri Nic a Mhaoilein and more to be announced. There will also be a late night ceilidh after the Awards till 1am.